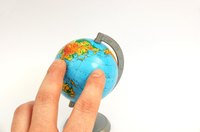 Globalization impacts human resources at businesses and organizations of all sizes. Hiring employees needed in another country requires an understanding of laws and customs in that location. Moving employees from one country to another requires a grasp of global mobility issues. Labor costs or the availability of skilled labor in another country may prompt human resources to look at global hiring opportunities.
Country-specific Human Resources
As many businesses expand operations into global markets, human resources may attempt to manage all details from its headquarters. Successful companies need a full range of human resources services in country markets, according to "Strategic Human Resource Management" authors Randall S. Schuler and Susan E. Jackson. Acquisitions, joint ventures and myriad needs in the external market require the attention of an on-site human resources professional. Companies benefit from an earlier rather than later human resources addition in the foreign market, according to the authors.
Talent Management
In "The Future of Human Resource Management," author David Ulrich synthesizes the sage advice of 64 corporate experts. As companies move into the competitive global arena, they typically hire professional services consultants to streamline human resources databases and information management systems. Streamlining global information helps the company to operate more effectively and with greater efficiency. However, managing talent acquisition from a distant location may be more difficult. Meeting and evaluating individuals requires a local human resources professional for optimal hiring results.
Cultural Sensitivities
Global workforce human resource management requires a solid and sensitive understanding of cultural differences, according to "Managing the Global Workforce." Human resource professionals may believe they've got everything sorted out when an "unplanned" holiday or important event occurs in an external labor pool. For example, a U.S.-based engineering firm receives a massive aluminum contract in Oman. The business is aware of the importance of local religious days but forgets about adding Moloud, the celebration of the Birth of the Prophet, in February. The project manager from Britain shows up on-site and panics. None of the workforce has arrived to work on that day. Human resources hastily add the day to the paid holidays.
Global Mobility Challenges
Global mobility doesn't just involve the many complex tasks involved in moving an individual or family from one country to another, remark authors George Bolander and Scott Snell of "Managing Human Resources." Human resources may hire specialized vendors to assist the employee's move. Evaluating taxes, planning the movement of household goods, arranging international schools and leasing suitable, safe housing and necessary visas must occur. An inexperienced human resources partner may not understand the time table necessary to move a new hire from France to the United States. The former employer's contract requires a waiting period of three months prior to accepting a new job. Visa arrangements may take longer than three months. Waiting to initiate the visa process will delay the employee's start date. All of these factors must be taken into account by the human resources department.