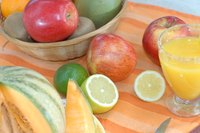 A registered dietitian (RD) is a certified and licensed nutrition expert whose main professional focus is helping individuals and organizations make appropriate, healthy and positive dietary choices. Dietitians work for private clients, as consultants for specialized fields such as diabetes and cancer nutrition, and for businesses and government institutions to design food programs for a large number of people. To become an RD, you must meet certain professional and educational qualifications.
Educational Requirements
At minimum, a dietitian must complete a bachelor's degree in a related field, such as biology, nutrition, food service or dietary management. The prospective dietitian must earn this degree from an institution that offers programs accredited by the American Dietetic Association. Many dietitians get postgraduate degrees and certifications in specialty fields, also from accredited institutions and programs.
Fieldwork and Practical Experience
To receive licensure as an RD, a dietitian must complete an internship program for practical fieldwork experience in her dietetic field of choice. This program must be approved by the American Dietetic Association. Some programs allow the applicant to use the internship toward academic credit at the undergraduate level. Some dietitian graduate programs entail so much fieldwork and practical experience that they count toward this requirement single-handedly.
Qualification Exam Requirements
In the United States, 46 states have laws concerning the licensing and certification of dietitians. Some states require the dietitian to hold a professional license; others require a professional certification. In general, both requirements are met when the dietitian passes a qualifying exam given by the Commission on Dietetic Registration. A person may sit for this exam only after completing an accredited undergraduate program and fulfilling the internship requirement.
Continuing Education Requirements
Once a dietitian has completed the educational, internship and certification requirements, he must continually work toward maintaining those qualifications. A dietitian must take continuing education classes to keep up-to-date with industry standards and professional expectations. He can also take postgraduate courses to further his knowledge in a specialized field and become a more credentialed specialist in his field.