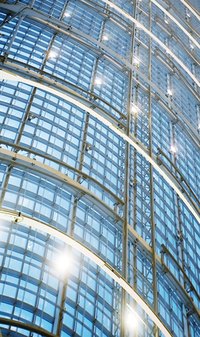 In designing buildings, architects create the appearance a client wants in a functional and safe structure. Jobs for architects will likely experience fast growth through at least 2018, reports the U.S. Bureau of Labor Statistics (BLS), but the agency cautions aspiring architects that these jobs will have a lot of competition. Salaries typically are much higher for architects with many years of experience.
Job Features
Architects design the exteriors and interiors of houses, apartment buildings, office complexes, churches, schools, museums, restaurants, transportation terminals, health care facilities and other buildings. Architects accomplish their goals within the client's budgetary restraints and make sure the building is suitable for the surrounding environment. Architects draw not only the exterior and interior of the building, but the structural beams, the plumbing pipes and the heating and cooling systems. They are involved in discussions with the client and the builders from the beginning through the completion of the project. In addition to their creative and engineering skills, architects must supervise, manage and communicate effectively.
Requirements
All states require architects to be licensed. To become licensed, an architect must complete a professional degree in architecture and at least three years of practical work, and pass all categories of the Architect Registration Examination. Most architects complete a five-year bachelor of architecture degree. Others complete a preprofessional program in architecture or acquire a bachelor's degree in another field and then earn a master's degree in architecture, explains the BLS.
Income Range
About one of five architects is self-employed, and most architecture jobs are found in architectural or engineering firms or related services, says the BLS. A small number work for construction firms and for government agencies, focusing on projects such as community planning and government building design. The average salary for architects as of May 2009 was about $38 per hour or $79,000 per year. The middle 50 percent on the earnings scale had incomes of about $55,000 to $93,600, with the top 10 percent making more than $122,600. Many architects receive bonuses of $1,000 to $5,000 and similar amounts in profit sharing, indicates the Payscale salary survey website.
Considerations
The recession of the late 2000s had a serious negative impact on architects, leading to many firms going out of business and others implementing both staff cuts and pay cuts, reports an article in the April 2010 issue of "Architect" magazine. These cuts had a bigger effect on those at the lower end of the salary scale. In the magazine's salary survey, the 1,001 respondents had a median age of nearly 52 and most were owners, partners or management-level employees. The survey showed the median architecture salary dropping from nearly $89,000 in 2009 to nearly $81,000 in 2010. Payscale shows a median starting salary for architects of $35,000 to $46,000 as of December 2010, and the median earners with one to four years of experience at $40,000 to $50,500. Only architects with 20 or more years of experience generally are making the BLS-noted average salary of $79,000.