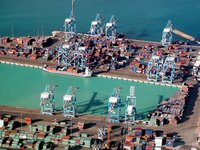 Shipping agents, also known as cargo or freight agents, handle the transportation of cargo from manufacturers, trucking depots, airline terminals, train stations or shipping docks. A high school diploma is the only education needed and most workers learn their skills while on the job. Computer skills are also desirable.
Work
Shipping agents may work in comfortable shipping and receiving rooms, in warehouses or stockrooms that aren't climate-controlled, in cold-storage rooms, or outdoors in all kinds of weather. The job requires physical stamina, because it includes standing, walking, bending and lifting. Some agents work evenings and weekends when large shipments are involved, although most agents work a standard 40-hour week. The median salary is $36,960 annually, with a range of $22,190 to $58,110. This data is as of May 2009, according to the U.S. Bureau of Labor Statistics (BLS).
Experience
Salary increases by experience, as shown by the PayScale Report. This is because experienced shipping agents become more efficient at their work and have a wider network of shippers, packagers and truckers that they can use. As of December 2010, shipping agents with one to four years of work earn $29,978 to $40,825 annually. Those with five to nine years of experience make $31,578 to $53,000, and those with 10 to 19 years receive $36,438 to $54,904.
Employers
The BLS states that the biggest employers of shipping agents are freight transportation handlers, who arrange for the transfer of cargo from departure to destination. They comprise 44 percent of the available 82,440 jobs and pay $19.08 an hour, or $39,680 annually. The highest-paying employers conduct support activities for water transportation, ensure that cargo is transported to and from large and small ships, and pay $29.31 an hour, or $60,960 annually. But they account for only 2 percent of the jobs.
Cities
The city with the best opportunities for shipping agents is Miami, Florida, a major port with a concentration of 4.60 agents per thousand workers. The big supply of employees makes for pay at $14.68 an hour, or $30,540 annually, which is lower than the median. The highest-paying employers are located in Brunswick, Georgia, with compensation at $28.82 an hour, or $59,940 annually. However, with a concentration of 0.84 agents per thousand workers, job opportunities here are less than a fifth those of Miami.