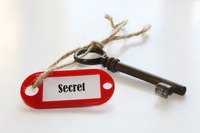 Rules and regulations about confidentiality help to protect the privacy of clients, customers, patients and others in professional, clinical and related settings. Medical professionals, psychologists, school counselors and financial advisers are all expected to keep information about their clients private. In some cases, there are legal penalties for exposing private information.
Medical Professionals
Many people must, of necessity, disclose very personal details about their physical condition, health problems and personal habits to their physician. If this information was shared with other people, it could cause social embarrassment at best and damage to career and family at worst. Doctors are subject to strict regulations that forbid them to disclose personal or medical information about their patients to others outside of their field. This prohibition doesn't apply to other doctors or specialists with whom they need to discuss diagnoses in order to help the patient.
Psychologists and Counselors
Psychologists and counselors often assist clients in dealing with very personal and sometimes embarrassing mental issues. These can include unusual phobias, histories of anorexia or bulimia, childhood sexual abuse, delusions and other mental instabilities. Most people would not feel comfortable disclosing these facts about themselves to the general public. For their therapautic interaction to be productive, clients need to feel confident that disclosures to their psychologist or therapist will be kept private. As with medical doctors, psychologists are allowed and expected to discuss cases with other professionals in the interest of helping the client, but this can almost always be done without identities being revealed.
Schools
Confidentiality in schools is a controversial issue because the clients of a school are underage students who are also under the legal guardianship of their parents. Many parents believe that they should have access to all information about their children, while some civil rights groups, and many of the students themselves, disagree. This issue arises most frequently around questions of birth control, sexual health and abortion. Some argue that underage girls have the right to have abortions without their parents being notified. Other confidentiality issues for minors arise when they are involved in illegal activity. Most of the time, media outlets are forbidden to release the names of suspects who are under the age of 18.
Religious Advisors
Catholic priests enjoy one of the few exceptions to laws requiring people to report illegal activity to the police. The bond of confidentiality between a confessor and her priest is considered inviolate by the Catholic Church, and many civil laws reflect this influence by allowing priests the right to hear confessions without being required to share what they hear. Religious advisers and mentors in all religious traditions are generally expected to keep the personal information of their parishioners to themselves.