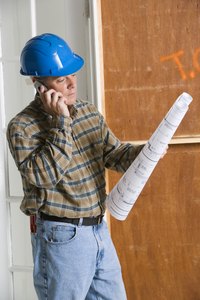 Some contracts base their fees on labor rates rather than using a fixed cost for a job. This provides flexibility for those times when a project has an uncertain length or you are unclear about what it might require. A construction project, for example, may require numerous specialists to perform work for an unpredictable amount of time to complete their tasks. In those cases, you'll need to add labor rates to your contract to ensure everyone is paid properly and there's enough profit left for you at the end.
Know the Job
Labor rates are used on time and materials, or T&M, contracts. Clients generally prefer to use other contract vehicles when the scope and cost of work can be projected more easily, but certain projects don't lend themselves to anything other than T&M payment structures. For example, if a company's generator fails and you're hired to fix it, you don't know before examining the generator how long the job will take or what it will require, so a T&M contract could fit this job. A ceiling price is often included, which you exceed at your own loss. While this protects the client from funding a project that goes too long, it puts pressure on your business to estimate the needed resources correctly.
Determine the Rates
Before you can add the labor rates, you'll need to determine what to charge. If your employees are providing the labor force, consider the amount they cost you per hour -- not simply in wages, but in benefits as well. Include general and overhead administrative expenses, and factor in the profit margin. Include costs associated with oversight. If you're responsible for ensuring compliance with regulatory and contract requirements, budget some of your own hours into the contract. If you're delegating the task to a project manager, ensure her hours are included and billed.
Respect the Ranges
Some clients have a specified hourly rate range that employees who fall into certain categories have to meet. A government request for proposal, or RFP, might specify the maximum amount that certain labor categories can charge or the level of expertise expected for various labor categories. An electrician, for example, might have to demonstrate a certain number of years of experience before the government will allow you to bill his services at a senior electrician's rate. If your electrician doesn't meet that threshold, and if you can't make a profit charging him at a lower rate, the job isn't worth bidding on.
Schedule Payments
When adding labor rates, make sure the payment schedule allows you to compensate your workers as the project is progressing. Getting funding on a predetermined schedule allows you to manage your cash flow effectively. It also protects you in case unexpected resources need to be devoted to the project. For example, if the initial stages of a construction project require more senior personnel than anticipated, regular payments from the customer allow you to keep everything on schedule without having to turn to other means of making payroll.