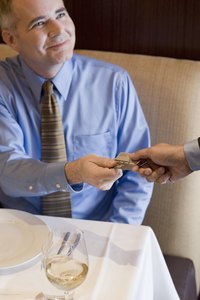 A credit card issuer will have you sign an application before accepting you as a new customer. When the account is opened, you will receive a cardmember agreement that gives the terms -- including interest rate and payment deadlines -- under which you can use the account. Federal law protects your rights as a cardholder and is supposed to prevent fraud and abuse by the issuer. Cardmember agreements are easily accessible; requesting a copy of your application will present a greater challenge.
Credit Card Agreements
It's common for a cardmember agreement to consist of several pages of fine print. These agreements spell out the important terms of the account: annual percentage rate, due date for payments, any fees that may be charged on late payments, and method of calculating finance charges. By the Credit Card Accountability Responsibility and Disclosure (CARD) Act, signed into law in 2009, credit card companies must post examples of their current credit card agreements online. A database of samples is available, and searchable by issuer name, through the website of the Consumer Financial Protection Bureau.
Requesting a Copy
By law, a credit card issuer must provide a copy of the agreement upon request. However, a cardmember agreement is not the same as a signed credit application. This was the form you filled out when originally requesting credit from the issuer. Some card issuers allow you to apply online for credit and sign with an "electronic signature," which you provide by typing your name into a form. The card issuer retains the application and does not routinely return a copy to the cardholder once the account is opened. Cardholders should keep a copy of both the original application and cardmember agreement for future reference.
Requesting the Application
You may request a copy of your original signed application directly from the credit card issuer. This is accomplished by calling the company's customer service line, or through a written request. However, the issuer is not required by law to provide a copy of the application -- only the cardmember agreement. If you find your request delayed or simply denied, you must request a court order, in the form of a subpoena, to force disclosure of the application.
Court-Issued Subpoena
If there is a case pending between you and the credit card issuer, you may request a copy of the application by drawing up a Request to Produce and sending it to the credit card company. If the issuer does not comply, the court will issue a subpoena upon your request. Your legal representative can draw up these documents and, if necessary, request issuance of the subpoena by the court. A subpoena "duces tecum" gives the recipient a deadline by which to produce a specific document. The subpoena must be delivered by a certified process server or representative of law enforcement -- parties to the case may not serve subpoenas. If the credit card issuer fails to comply with a subpoena, it can be charged with contempt of court and see its case against you dismissed.