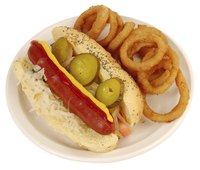 Tucked away in the southwest corner of the Buckeye State, the small town of Waynesville, Ohio, is known for its friendliness and excellent antique shopping opportunities. It's also the location of one of Ohio's largest and best-attended events: the annual Sauerkraut Festival. During the second weekend of October, this popular gathering attracts more than 350,000 visitors. Don't miss out on your share of 7 tons of the traditional German specialty, great entertainment and the opportunity to browse through hundreds of arts and crafts booths.
What's on the Menu
Festival goers can enjoy their tart, chopped cabbage in more ways than easily imagined at the festival -- on hotdogs and Reuben sandwiches, in cabbage rolls and even incorporated in fudge, pizza, donuts and sundaes. If pickled cabbage doesn't tickle your fancy, head for the abundant non-kraut items available. Food booths are provided by local non-profits, so a number of good causes benefit from your indulgence. The recipes are in such demand that the festival produced a cookbook titled "Sauerkraut & More," available for sale at information booths during the festival and at the Waynesville Chamber of Commerce.
Trinkets and Treasures
The lure of the festival's sauerkraut delicacies may be strong, but so is the pull of its tantalizing shopping opportunities. In a typical year, more than 450 artisan booths line the streets, offering everything from country crafts to spa products. Twenty eight states are represented by sellers, including booths from Hawaii. This is a juried show, with festival committee members personally reviewing each booth to ensure that only high quality items are for sale.
The Extras
The fun begins on Saturday, with performers such as pipe and drum troupes kicking off opening ceremonies. Both days are packed with entertainment, including performances by the local high school marching band and dancers from local dance academies. Other activities include a church service on Sunday morning and the Cabbage Roll Run, a 5-mile race along the Little Miami Scenic Bike Trail a week before the festival. Shuttle bus parking is available at Wayne Local High School on Dayton Road. Additional private parking surrounds the festival, though visitors park at their own risk in the private lots. No pets are allowed on festival grounds, but service animals are permitted. Alcoholic beverages are not for sale at the food booths, and no alcohol is permitted within the festival boundaries.
Where to Stay
Consider staying at the Creekwood Motel on South Main Street in Waynesville after a day at the festival. Conveniently located near the festival grounds, Creekwood offers a number of discounts to lodgers, including a military discount and a Waynesville Chamber of Commerce discount. These rooms are often booked far in advance of festival week. For a more intimate lodging experience, stay at the Cranberry Cottage Bed and Breakfast on North Main Street in Waynesville. Enjoy private parking, a sun porch, flower gardens, a large great room and a kitchen area at this secluded bed and breakfast. Camping opportunities include the Frontier Campground on Collett Road, northeast of Waynesville. This location is open year-round and offers tent sites, RV sites with full hook-up, rustic log cabins, an activity lodge and a playground. Caesar Creek State Park lies southeast of Waynesville and also offers tent and RV camping all year, with electric hook-up at most sites, bath and shower houses, a free dump station and a camping supply store.