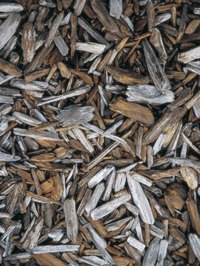 Most home gardeners know that mulch benefits plant beds, but some may not know that plant beds actually can be built using mulch, such as hardwood mulch, and a few other materials. These plant beds, which can be created right over grass and weeds, are often called sheet or lasagna plant beds, and they don't require digging.
Why to Use Hardwood
When choosing which mulch to use, many home gardeners select hardwood mulch. Not only is hardwood mulch -- especially shredded hardwood mulch -- very effective in suppressing weeds, it also remains in place longer than many other, lighter mulches. In addition, hardwood mulch decomposes more slowly than many other kinds of mulches, which means hardwood mulch lasts longer and adds more nutrients to soil over time than mulches that quickly decompose.
How it Works
Using mulch to create plant beds is not a new idea. In fact, it's been used by Mother Nature for millions of years. The process mimics what happens naturally in the forest as layers of leaves, other fallen tree matter and other organic materials stifle weed growth as they decompose, providing a rich layer of soil perfect to sustain other plant life. By layering mulch and other materials on top of the earth and allowing them to decompose, you can mimic this environment in your landscape.
Why to Do It
Using the layering method to build plant beds has a lot of benefits. First of all, it's simple and inexpensive. It allows you to customize the size of your gardens simply by the way you arrange the layers. If you want gardens to cover large spaces, it's much easier to do so by the layering method than to till large chunks of land or to build large, above-ground plant beds. The same applies for oddly shaped places: It's simple to adjust the sizes and shapes of the layers to fit unusual spaces in the landscape.
How to Prepare the Spaces
The process of building plant beds with hardwood mulch and other materials begins with loosely marking off the areas where you want to build the beds -- or with just estimating the areas visually if you aren't too picky. Then cut or mow down the weeds and grass in those locations. The grass and weeds can lie where they fall to decompose, or, to hasten the decomposition process, manure can be spread over the fallen grass and weeds. Afterward, cover the weeds and grass with a material to prevent their regrowth, and overlap the boundaries of each plant bed by about 6 inches with that material. Newspapers and cardboard work well, as do burlap and cotton. Then get out a garden hose, and use water from it to wet the material on the plant beds until it is thoroughly soaked.
How to Finish the Beds
Adding a layer of nitrogen, which may be in the form of more manure, compost or fresh grass clippings, is the next part of the project. After you put the nitrogen on top of the weed- and grass-blocking material on each plant bed, wet it, and cover it with hardwood mulch mixed with items such as dead leaves and straw, creating the carbon-based layer, which should be about 8 inches deep. Finely shredded hardwood mulch works best for such plant beds. Continue building the plant beds by topping the mulch, carbon-based layer with a 2-inch layer of compost or rich soil. That is the layer in which to plant seeds. It can be topped with more mulch either before or after planting; if you add the mulch before planting, then just scoot the mulch aside when you plant; if you want to add the mulch after planting, then do so after the seeds have sprouted and the plants emerge from the soil. The best practice, however, is to wait a few weeks for the beds to settle before planting seeds.