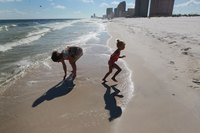 State Highway 59 runs through miles of rural farmland and small towns in southern Alabama to end at what seems an unlikely destination -- a beach with silky sand so fine it squeaks beneath your bare feet when you walk on it. This is Gulf Shores, the crown jewel of beach resort areas along Alabama's stretch of the Gulf Coast. It's a place where nature and development exist side by side. Whether you want a quiet seaside getaway or to immerse yourself into the heart of the action on a crowded beach, you can do both on this sandy strand in the Heart of Dixie.
Natural Treasures
The sugar-white sand beach is the big draw to Gulf Shores, but there's much more to nature here than frolicking on the sand and in the surf. Birders will relish making stops along the Alabama Coastal Birding Trail -- this area is a stopover point for migrating birds and a permanent home to many species. Much of the land around Gulf Shores is protected as part of the Bon Secour National Wildlife Refuge. The refuge and Gulf State Park have miles of backcountry trails for exploring the maritime forest and large dune areas. Animal lovers won't want to miss a visit to the Alabama Gulf Coast Zoo for its up-close Animal Encounters program.
Culinary Delights
Seafood, of course, is the main attraction in Alabama Gulf Coast restaurants. And any seafood restaurant worth its salt in Gulf Shores should have fresh Royal Red shrimp on the menu. Royal Reds, found in the deepest, darkest waters of the Gulf of Mexico, are a tad more expensive than other kinds of shrimp and have a buttery, lobster-like taste. Another specialty of the area doesn't come from the sea but from the dessert pantry: bread pudding served with whiskey sauce. Bread pudding can be found all over Alabama, but it's especially popular in the coastal region. Other items you'll find on most menus in Gulf Shores are shrimp 'n' grits and po-boy sandwiches, evidence that the influence from nearby New Orleans weighs heavily on local cuisine.
Just Hanging Out
Most people who come to Gulf Shores are interested in one thing: hanging out by the water. One of the more popular spots to hang out in Gulf Shores is called, well, the Hangout. This open-air establishment adjacent to the beach is a bar, restaurant, nightspot and mini amusement park in one, with the motto "Where 59 ends and the fun begins." It's also home to the Hangout Music Festival each May. Lulu's at Homeport Marina on the Intracoastal Waterway is owned by Jimmy Buffett's sister and features live music every day; it also has a giant sandbox of a playground for the kids. For old-school beach town ambiance head to the Pink Pony Pub, in business since the 1950s and located directly on the sands next to the Gulf.
Staying the Night
An array of beachfront accommodations are found in Gulf Shores, from condo high-rises and chain hotel properties to mom-and-pop motels and beach houses. A handful of campgrounds for RVs and tent camping are in the area but not directly on the beach. Gulf State Park has cabins for rent and two campgrounds a short distance away from its own pristine stretch of undeveloped beachfront. Spring break in Alabama is mid-March. If you plan to visit during this time or during peak season between Memorial Day and Labor Day, book as far in advance as possible; accommodations go fast and early for these periods.