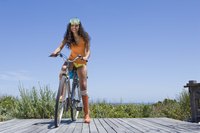 On sunny summer mornings, the Jersey Shore's Ocean City Boardwalk is the domain of hundreds of bicyclists as multi-person surreys, families with helmet-clad toddlers and seniors on broad-seated beach cruisers wind through crowds of brave joggers and pedestrians. Amusement parks, arcades, miniature golf courses, pizza joints and funnel cake stands line the 3-mile-long stretch as cool ocean breezes toss a smorgasbord of sights, sounds and smells down the boards.
Bike Rentals
If you don't want the trouble of lugging your bikes to the shore, Ocean City has almost a dozen businesses near or right on the boardwalk that rent bicycles, tag-along bikes and four- to 10-person surreys. Helmets are usually free, while baby seats and training wheels often have an added fee. In addition to single bikes and surreys, Oves Beach Grill rents tandems. While you're there, order some fresh-baked apple cider donuts to go. Surf Buggy Centers has two locations in Ocean City where you can rent electric bikes, adult tricycles and enclosed bike trailers for kids. Demand for bike rentals is busiest on Sundays during the peak season, so you may want to book ahead.
Peak Season Riding
Bicycles are permitted on the boards from 5 a.m. to noon daily from the third Thursday in June until the day after Labor Day, but if you don't want to contend with crowds, take your ride before 9 a.m. The boardwalk is narrower at the far ends and broadens between Fifth and 14th streets, where it tends to get packed, especially on weekends. You'll find marked lanes for pedestrians, surreys, bikes and joggers in this section, so stick to your designated lane. On the unmarked part of the boardwalk, remember to pass pedestrians on the left, try to stay in single file and don't expect to ride during Ocean City's annual baby parade held every August.
Off-Season Pedaling
With a few Saturday exceptions in September and October, bicycles have unrestricted access to the boardwalk the day after Labor Day until Easter. Easter usually brings warmer weather and the beginning of heavier bike traffic on the boards, so riding is only permitted from 5 a.m. to noon on that Sunday. Mid-May begins the 5 a.m. to 5 p.m. schedule on weekdays, with biking cut back to 5 a.m. to noon on the weekends. That lasts until the peak season schedule begins
Safety Tips
While it's a New Jersey state law that everyone under age 17 who is riding a bicycle must wear a safety helmet, that rule does not apply to the Ocean City Boardwalk or, for that matter, Jersey boardwalks in general. It's a good practice, however, to have young ones wear helmets since riding the boards can be dangerous when throngs of people share one space. Also, if your children take a helmet-free detour off the boards, you could be slapped with a ticket. Bicycle bells come in handy, hand signals should be used whenever possible, and shoes are a good idea. If you stop in at a T-shirt shack or ice cream shop along the route, make sure to lock your bike. Bicycle thefts are a big problem in Jersey Shore towns.