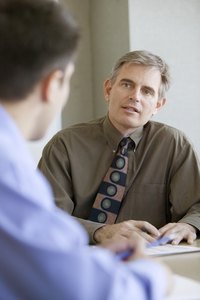 Human resources professionals must identify the tasks, skills and experience their companies need to accomplish their objectives. These professionals use forecasting techniques to anticipate the company's labor requirements and the impacts those needs will have on their business. The forecasting techniques allow HR staffers to determine the number and type of employees the company needs and to break down the assorted expenses that go with hiring or releasing those employees. These techniques include both statistics-based measurements and judgment-based experiences.
Advantages of Statistical Techniques
The primary advantage of statistical techniques is that the forecasts employ an objective, fact-based starting point. Statistical forecasting techniques use data compiled from previous years to calculate the future demand for specific tasks. The objective nature of statistical techniques allows all participants to agree on the measurement criteria. Statistical techniques use established methods that are consistent from company to company, industry to industry and year to year. These techniques also produce predictable forecasts and allow professionals to compare the forecast outcomes with the actual results.
Drawbacks of Statistical Techniques
While statistical forecasting techniques can be highly useful when dealing with large data sets, smaller companies or new industries often lack the data they need to use statistical forecasting as an effective tool. Statistical forecasts are also useful for long-term planning but are seldom as effective in anticipating short-term fluctuations. These techniques show overall trends over years and decades, but they frequently do not account for market trends and technological changes that can shake up a single industry or the entire economy.
Advantages of Judgmental Techniques
The biggest advantage of judgmental forecasting is its reliance on input from workers who best understand the business and its needs. Judgmental forecasting depends on the knowledge and experience of human staff members to anticipate potential business necessities. Judgmental forecasting also offers flexibility to meet both changing market conditions and moral and ethical challenges. Experienced labor forecasters can offer advice that stems from having been in previous similar situations and that extends beyond numbers on a spreadsheet.
Drawbacks of Judgmental Techniques
As with many efforts involving human experience, judgment-based techniques are vulnerable to human error, bias and politics. Forecasters may skew their predictions in favor of one group within the company at the expense of another, rather than anticipating the needs of the entire business. Those HR professionals with lengthy experience in one industry may seek to apply their judgment-based methods in another arena. In this new industry, their previously held beliefs no longer apply, which can lead to poor forecasts.