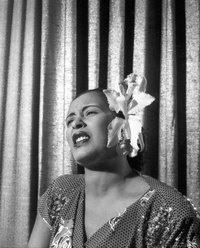 Born in Philadelphia, Elinore Harris was destined for iconic stardom in the world of jazz music as the legendary Billie Holiday. Lady Day, as she was known, was the first black woman to sing with a white orchestra. She broke onto the music scene in the 1930s, putting her voice to moving ballads such as "The Man I Love" and "What A Little Moonlight Can Do," and she remained a popular performer until her death in 1959. Audiences knew that when "Lady sings the blues," she would often do so with a white gardenia in her hair.
White Gardenias
Perhaps her most iconic style statement, Billie Holiday was known for performing with a large white gardenia in her hair. Always placed on the side of her head, Billie wore the impressive flowers either above her ear -- when her hair was slicked back in either a bun or ponytail -- or near the top of her head and tucked into part of an updo. Whether stepping out on the town or walking down the aisle, you can show Billie's influence by including in your hairdo your own floral adornment -- smaller buds for a more subtle gesture, or a full-on gardenia when you really want to make an impression.
Statement Headwraps
If a blooming white gardenia was not a part of Billie's look, chances are a statement headwrap was. Whether her hair was longer or cut short, Billie often wrapped a large fabric headwrap completely around her tresses, even covering her ears. The headwrap typically had a center jewel or fabric detail, which she usually positioned over her forehead. You can wear a plain headwrap for casual affairs -- or just as a way of covering your unwashed hair -- or you can use a finer material and adorn it with jewels to really bring out your sparkle at a higher-end event.
Up Top Updos and Posh Ponytails
While known for her fondness of flowers, Billie also pulled her hair to the top of her head and pinned it in place in impressive updos -- free from any added accessories. Whether she wore it in a glamorous bun or added sensuality with soft curls pinned around the top of her head, Billie's updos always evoked ladylike sophistication. Along with updos, Billie also wore her hair in high, sleek ponytails. A fun night out is a perfect opportunity for you to debut Billie's high ponytail, and an intimate date will always appreciate a carefully coiffed updo with delicate pin curls placed just so for added glamour.
Sophisticated Shorter Hair
While she sported longer hair at times, Billie also wore shorter hairstyles during her career. Her shorter hairstyle was not as big as the afros of the 1970s, but it was long enough to showcase the natural texture of her hair. Release the texture of your tresses by rubbing a styling wax through your short hair -- fluff up your curls to gain additional movement. To transform this daytime look into a glam evening style, add a unique hair accessory, such as a headband with a flower or a jeweled barrette.