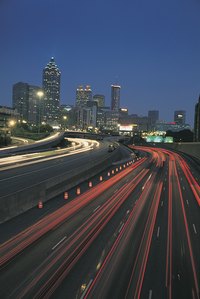 To grab one of the few parking spaces available at the Atlanta Amtrak station, you'll need amazing luck. Unless you're on a winning streak, plan on parking in one of the lots or garages located near to Peachtree Station. Buy a monthly pass at one of them if you're a frequent train traveler because the discounts are worthwhile and you won't have to wonder where to park every time you arrive.
Peachtree Station Parking
Amtrak in Atlanta is served through the Peachtree Station, at 1688 Peachtree Street NW. There are only 10 short-term parking spaces at the station itself, and those fill up quickly. They also come with restrictions. You can park your car there during the day, but no overnight parking is permitted. If you have a disability, you may park in one of the dedicated spaces at the station. Make sure you have a tag on your mirror or license plate so your vehicle is identified as eligible for those marked spaces.
Garage Parking
Indoor garage parking is available near the Amtrak station in downtown Atlanta. The closest is the 221 Peachtree Garage, which is at Peachtree and Harris Streets, about a tenth of a mile from the train station. This is a self-park garage and accessible 24 hours a day, seven days a week. Motorcycle parking is not allowed in the garage. At the time of publication, the daily parking rate is $20. Garages can also be found at 103 Luckie Street (0.17 mile away) and 102 Cone Street (0.22 mile away).
Lot Parking
Plenty of parking lots can be found within half a mile of the Amtrak station. The closest ones are at 170 and 171 Carnegie Way NW, about 0.10 mile from the station. Indoor spaces are available at the 171 Carnegie lot; the lot at 170 Carnegie has outdoor parking only. Both lots are open 24 hours per day, and the daily rates depend on how long you park. At the time of publication, those rates begin at $3 for 20 minutes and climb to $22 for a full day. Other nearby parking lots include the Ellis Lot at 70 Ellis Street, 0.16 mile from the station, or the lot at 127 Andrew Young International Boulevard., which is 0.23 mile away.
Street Parking
Street parking can be found near the train station, but only use this option for extremely short trips; perhaps for picking up of dropping someone up at the train station. Atlanta strictly enforces on-street parking rules, so put enough money in the meter and do not leave your car on the street for more than two hours.