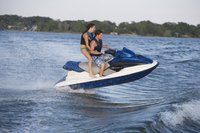 Jet skiing first broke onto the water recreation scene with the 1972 introduction of the Kawasaki Jet Ski, and the sport has exploded in popularity since. Commonly known as personal watercraft, the jet ski models in distribution since the late 1970s allow riders to sit down and use motorcycle-style handles to propel the craft through the water at speeds previously impossible on a one- or two-person boat. Southern California offers a temperate climate ideal for such watersports, and there is no shortage of rentals or places to ride in the area.
Big Bear Lake
Though it's just under 100 miles east of Los Angeles, Big Bear Lake is surrounded by untouched woodland, including San Bernardino National Forest to the south and mountains that welcome skiers in the winter. Take in views of Sugarloaf Mountain to the southeast and Butler Peak to the west as you cruise the 7-mile length of Big Bear Lake on your jet ski, which you can rent from either Big Bear Parasail and Watersports or Big Bear Marina.
Lake Elsinore
Lake Elsinore -- the only natural freshwater lake in the Southern California region -- may be small, but it offers a variety of on-site activities. The lake and community of the same name are 70 miles southeast of Los Angeles and sit on the northeastern border of the Ortega Mountains. In addition to jet skiing with rentals and accommodations by All Day Jet Ski, you can stay at a campsite within walking distance of the lake, go fishing or take a dip in Lake Elsinore's clear waters.
Around Los Angeles
There are at least six jet ski rental businesses within 60 miles of the nation's second-largest city. Head north along the coast for Goin' Places and Southern California Jet Skis in Oxnard; Watercraft Adventures in Westlake Village; and 805 Waverunner Rentals in Camarillo. These three cities are clustered just north of Malibu, so your jet ski adventures will afford views of the famed beach and nearby Santa Cruz and Santa Rosa Islands. South of Los Angeles, you'll find Catalina Passenger SVC in Newport Beach, with views of Santa Catalina Island, and Offshore Water Sports in Long Beach, which offers the protection of Queensway Bay.
The Deep South
San Diego, the southernmost major city in California, is a haven for jet skiers with its welcoming climate and relatively warm beaches. Mission Bay Sportcenter has two locations in the city and is open year-round. You'll enjoy the open horizon from the safety of San Diego's Mission Bay. And if you're itching to get out of the city, head up the coast to Carlsbad Lagoon Jet Ski in Carlsbad, where you can avoid the crowds and take advantage of the tranquil area waters.