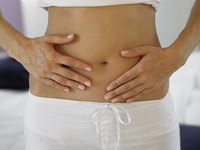 Pelvic pain is one of the most common medical complaints in women of all ages. The female pelvis contains many structures in close proximity to each other, and pain may originate in one site or several different sites at once. Sometimes pain that you experience in your uterus originates in the bladder or the pelvic joint. Similarly, bladder dysfunction may disguise itself as menstrual cramps. Even your doctor may have trouble making a diagnosis without a thorough history, a physical examination and some lab tests, so don't be alarmed if you do not get an answer to what is ailing you right away. You are most likely suffering from one of these common and treatable causes of pelvic pain.
Osteitis Pubis
Osteitis pubis is an overuse injury to the symphysis pubis joint, the area in the front of the pelvis where the two halves of the pelvic bones join. Characterized by pain in the front of the pelvis that may radiate into the groin, lower abdomen or thigh, OP frequently starts as mild discomfort but escalates into severe pain with continued overuse. It is most common in athletes who play sports that involve repetitive kicking and jumping, such as football, soccer and basketball. OP is seen in distance runners and weightlifters as well. Treatment involves icing the affected area, nonsteroidal anti-inflammatory drugs (NSAIDS) such as ibuprofen and rest, followed by strengthening and flexibility training when the pain subsides. Full recovery may take as long as six to nine months.
Endometriosis
Endometriosis is one of the most common health problems in women between the ages of 20 and 40, as it affects approximately 5 million women in the United States. Characterized by the growth of uterine tissue outside the walls of the uterus, endometriosis produces benign lesions on adjacent structures, such as the ovaries, fallopian tubes, intestines and pelvic walls. Each month during menstruation, these growths respond to hormonal changes by breaking down and bleeding, just as normal uterine tissue does. However, this tissue cannot be expelled normally, so it accumulates in the pelvic cavity, causing inflammation, scarring and pain. Exercise often alleviates the pain of endometriosis. However, if scarring is extensive, even moderate activity may make it worse. Treatments include NSAIDS, oral contraceptives and other hormones to stop menstruation. Surgery may be needed if scarring and pain are severe.
Interstitial Cystitis
Interstitial cystitis is also called persistent bladder pain syndrome. It is a poorly understood condition that affects approximately 1.8 million women and 1.3 million men in the United States. Symptoms include mild to severe pelvic pain that may be felt as burning, pressure or tenderness in the pelvic region and frequent urination, sometimes as often as 60 times per day. Often, the pain is worse when your bladder is full. High-impact exercise such as running, jogging, dance, aerobics and gymnastic may make the pain worse. There is no cure for PBS, but many treatments are available. Some people get relief by using NSAIDS, while others need stronger medicines to keep their pain under control. Your doctor will recommend a treatment plan that is right for you.
Uterine Fibroids
Uterine fibroids are noncancerous tumors that grow inside the uterus. They may grow into the uterus or on the outer wall of the uterus, or they may invade the uterine wall. Many women have fibroids that produce no symptoms other than unusually heavy periods. However, according to the doctors at the John C. Lincoln Health Network in Phoenix, about 10 to 20 percent of women experience heavy bleeding, which often leads to anemia. Additionally, large fibroids may cause a feeling of fullness in the uterus and uterine pain. Exercises that cause pressure in the lower abdomen -- such as crunches, sit-ups and other bending movements -- may make the pain worse. Generally, doctors recommend that you have painful fibroids surgically removed.