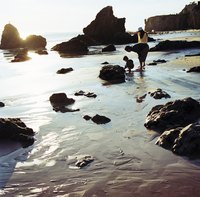 Bakersfield, California, may be a dry, sandy oil town in Southern California, but fun in the sun and sand is just a couple hours away. If you're in Bakersfield, a short road trip is the only thing that stands between you and some picturesque West-Coast beaches, including those in Santa Monica, Ventura, Malibu and Leo Carillo State park.
Relaxing in Santa Monica
Approximately 112 miles south of Bakersfield, Santa Monica State Beach is one of the most iconic stretches of sand in the United States. The 3-mile beach is open all year and features the world-famous Santa Monica Pier. At the pier, you can enjoy the Pacific Park Ferris wheel or check out the Heal the Bay aquarium. Don't forget to stop by the Annenberg Community Beach House, a free center offering fitness classes, recreational activities and cultural events. Visitors are welcome to engage in all standard beach activities, but may not camp, smoke or drink alcohol on the beach.
Swimming in Ventura
Ventura, California, about 116 miles south of Bakersfield, is a resort town with one long stretch of sandy coastline divided into eight smaller beaches. The Emma Wood State Beach attracts diverse wildlife, including various songbirds and red-tailed hawks, with its freshwater marsh. A relatively quiet location in a protected area at the mouth of the Ventura River makes it an ideal place to fish or camp in peace, but you'll have to make a reservation on the California Parks and Recreation website. Harbor breakwaters keep the currents from getting too strong at Harbor Cove Beach, making it an ideal place for swimming. If you're into surfing, don't miss Rincon Beach at the border of Ventura and Santa Barbara.
Surfing in Malibu
Malibu is often the first place pictured when thinking of Southern California beaches -- and for good reason. Roughly 127 miles from Bakersfield, Malibu boasts more than 20 miles of coastline and is the biggest beach in Los Angeles County. You'll find Malibu Surfrider Beach right off the Pacific Coast Highway. This beach, known as the birthplace of surfing as a popular sport, features a fishing pier, concession stands and plenty of waves. Zuma Beach, open from 7 a.m. to 10 p.m., might look familiar to you -- it's been the backdrop in several popular films and TV shows, including "Baywatch" and "I Dream of Genie."
Camping in Leo Carillo State Park
About 137 miles from Bakersfield, you can get away from city life in Leo Carillo State Park to enjoy some natural beaches. The 1.5 miles of beach tend to be a little quieter than the more commercial public beaches in nearby Malibu. You can camp at the sycamore-shaded campground at night, and surf, beachcomb, windsurf, fish and swim during the day. For a little adventure, explore the beach's costal caves, reefs and tidepools for the chance to see some wildlife. The park's gate is locked from 10 p.m. to 8 a.m., so plan accordingly. Camper trailers can be no longer than 31 feet.