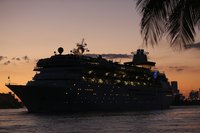 While most cruise ship terminals are set in isolated industrial regions, PortMiami is just 10 minutes from downtown Miami, placing passengers near an assortment of south Florida recreational activities and cultural excursions. The bustling port, which catered to 4 million passengers in 2013, according to the PortMiami website, is home to seven cruise ship terminals. Set on Dodge Island in Biscayne Bay, the port is accessible from the mainland via Port Boulevard.
Nature Calls
Set on the island of Virginia Key, just south of PortMiami, Miami Seaquarium is a 38-acre marine animal park. Enjoy such interactive adventures as a dorsal pull with a dolphin, an underwater journey in a 300,000-gallon tropical reef and a swim with a harbor seal. The park also has tropical fish aquariums and exhibits with sharks, tropical birds, manatees, stingrays and crocodiles. Jungle Island is on Watson Island, just north of the port. The 18-acre zoo has a jungle-like setting and is home to such critters as tigers, lions, orangutans, lemurs and a variety of tropical birds. There's also a petting zoo, a replica of the Florida Everglades and a seasonal private beach.
Park It
Bill Baggs Cape Florida State Park is on Key Biscayne, south of the port. The park has an Atlantic beach where you can sunbathe and swim. You can rent bikes, beach chairs and umbrellas on site, and enjoy shoreline fishing and kayaking as well. Take a tour of the 1846 lighthouse and lighthouse keeper's cottage, set on the southern tip of the island. Bayfront Park is in the heart of downtown, nestled along the coast of Biscayne Bay. The sprawling green space provides weekly free yoga classes and food truck parties. The park also hosts special events, such as puppet shows and concerts. You can also catch sightseeing tour buses and take trapeze lessons in the park.
Museum Mayhem
Explore the world of fine art at the Bass Museum of Art in Miami Beach, just east of the port. The museum is home to a collection spanning more than 500 years, including works hailing from the Renaissance and Baroque periods, and 20th-century landscape paintings. The museum also showcases pieces from Asia, Latin America and the Caribbean. Make your way to the Miami Children's Museum on Watson Island as well. The interactive play zone has 14 galleries, highlighting such exhibits as a two-story sandcastle, a 6-foot-tall piggy bank, and a pretend vet clinic, supermarket and port of Miami. There are also sections where kids can create their own artwork and play various musical instruments.
Down South
Make your way through the lavish streets of South Beach, just east of PortMiami. The ritzy neighborhood is filled with high-end restaurants, clubs, bars and boutiques. Lincoln Road Mall is a nearly 10-block pedestrian-only promenade that also includes sidewalk cafes, galleries and boutique hotels. For a more detailed, guided tour of the region, book a Duck Tour. The amphibious vehicles travel upon the waters of Biscayne Bay and down the streets of South Beach, alongside the homes of Millionaire's Row and past the neighborhood's famed Art Deco buildings.