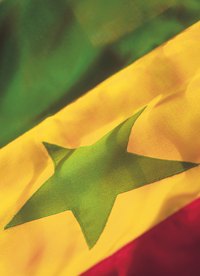 Senegal's many bazaars teem with merchant activity and provide some of the best traditional souvenirs produced by the West African country's many artisans. Efforts by governments and some international development agencies have revitalized Senegal's markets to help combat poverty, and the result is some of Africa's most diverse souvenir opportunities for travelers. As in most outdoor markets, you'll find plenty of knockoff belts and electronics, but the key to finding the perfect traditional souvenirs in Senegal is knowing what to look for.
Sandaga Madness Masks
The largest market in Dakar, Senegal's capital city, is called Sandaga Madness -- aptly named for its chaotic atmosphere. The three-story market is a big tourist draw, so beware of pickpockets and scammers. Inside the market, look for traditional African masks. When you find them, barter -- this is the normal practice in most markets in Senegal. These masks gain value as they age, and some vendors will leave newer masks in the sun to produce an aged appearance. If you see masks sunbathing near a market stall, keep walking.
Textiles at Marches HLM
Somewhat less chaotic than Sandaga Madness, Marches HLM in Dakar is the best place to buy traditional Senegalese textiles. Senegalese artisans beat dyed and waxed fabrics with wooden clubs until they take on a dazzling shine, and they sell them throughout the market. You'll also find a wide array of other textiles -- such as embroidered items, silk, lace and brightly colored prints -- on this market's streets.
St. Louis Baskets
St. Louis, Senegal's second major city, has a number of markets selling crafts, clothing and produce on its main streets. While you're there, duck down the city's side streets to look for traditional Wolof baskets. Wolof women typically weave these baskets -- this tradition has been passed from mothers to daughters in Senegal for generations -- with local grasses and recycled plastic from prayer mats. They sell them in their market kiosks, and you also can find Wolof laundry hampers.
The Soumbe-Dionne Craft Village
Senegal's Soumbe-Dionne craft village, near the Gambian border, offers a wide variety of traditional souvenirs. The main draw of the village is watching artisans craft their items, including large clay pottery, beaten copper pendants and intricately designed scarves. You also will see traditional Senegalese woodwork, such as game boards, statues and musical instruments, in Soumbe-Dionne.