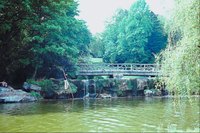 Belgium invites tourism with its North Sea coast, castles, old windmills, forests, hills and river valleys. This small country is divided into two regions, Flanders and Wallonia, with central Brussels serving as the nation's capital. Travelers will hear multiple languages and also find the nation is fluent in the ways of ecotourism, and helping visitors enjoy nature-based activities with minimal negative impact on the environment. A nation demonstrating commitment to sustainability, Belgium provides many options for green travel, exploration and fun.
Green Transportation
Wherever you're heading in Belgium, public transportation is an eco-friendly way to get there. Its modern rail system connects cities throughout the country and beyond the nation's borders. Using the bus system also minimizes your environmental footprint. In cities such as Brussels, which boasts green space in 53 percent of its area, tramlines, underground railways, bicycles and a good pair of walking shoes provide low-impact transportation alternatives to rental cars and taxis. The Brussels-based company Villo! provides handy 24-hour self-service bicycle rentals from multiple stations across town. Purchase one- to seven-day tickets at pay stations equipped with credit and debit card readers.
Explore Viroinval
Viroinval Nature Park, Belgium's own EDEN destination -- selected by the European Commission as a European Destination of Excellence for its natural assets and economic viability -- is a pristine oasis of scenic meadows, hills, forests and farmlands. Viroinval encompasses Ardennes forest, one of the area's largest and most diverse ecosystems. In the spirit of ecotourism, Viroinval fuses nature exploration with cultural, social and economic opportunities. Its 12-mile trail, wildlife, plant life, scenic views and economic contributions the local population set it apart as a destination. Located near the village of Chimay, many visitors enjoy a taste of the area's handcrafted artisan cheeses and Trappist beer.
Walking, Cycling and Paddling Adventures
Southern Belgium attracts recreational walkers with its river valleys, forest and lakes. The coastal district spanning the North Sea in northwestern Belgium connects walkers to dunes, waterways and the hills of the Ardennes Mountain Range. The nearly 87-mile pathway between La Roche and Bouillon provides for long-distance walking journeys, but you can customize shorter excursions. Five routes waymarked by authorities cover more than 745 miles of converted rail track, byways and towpaths that accommodate all forms of non-motorized activities, allowing for quiet travel. Paddlers discover bliss along the Ourthe, Ambleve and Lesse rivers, while those drawn to high adventure go rafting from Dinant.
The Key to Sleeping Green
When selecting lodging facilities, you can count on a Green Key-certified establishment to provide an eco-friendly night's sleep. The international eco-label identifies hotels, hostels, bed-and-breakfast establishments and campsites that implement sound environmental management. Green Key lodgings are situated in urban and rural settings and include the fun and trendy Aloft Brussels Schuman hotel and the gracious Barn of Ychippe in Wallonia near the paddling waters of the Ourthe and Lesse rivers.