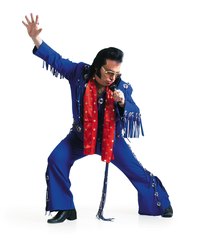 For dedicated Elvis Presley fans, a trip to Graceland becomes a pilgrimage -- an opportunity to pay homage at the King's shrine. At any time of the year, Graceland's historic and eccentric exhibits make it worth a visit even for non-fans. For those who want to get the most out of the experience, three annual events capitalize on Graceland's charms, while another allows visitors to explore the Memphis musical legacy that Elvis helped forge.
Celebrate the King's Birthday
Graceland commemorates Elvis' birthday on January 8 every year with a four-day celebration. On the birthday itself, Graceland welcomes visitors with complimentary cake and coffee, along with a daylong slate of musical performances and special presentations. Graceland also offers special ticketed events for the occasion such as tours of normally off-limit areas and evening parties. The festivities continue for three days at Graceland and sites around Memphis, with special screenings of Elvis' films, themed tours of the city and a performance of Elvis' music by the Memphis Symphony Orchestra.
Elvis Week
In August, Graceland and the city of Memphis stage Elvis Week in memory of Elvis' death. Elvis Week takes place at Graceland and in venues around the city, with special events for members of Elvis' fan club, the Ultimate Elvis Tribute Artist Contest, panel discussions, autograph signings and concerts highlighted by performances on the Elvis Main Stage. The most poignant portion of Elvis Week, the Candlelight Vigil, begins on August 15 and continues into the early hours of August 16. Fans who wish to pay tribute to Elvis' memory line up on Elvis Presley Boulevard for a procession into Graceland's Meditation Garden.
Christmas at Graceland
Those for whom Elvis' Christmas music strikes a special chord will find celebrating the holidays at Graceland a singularly rewarding experience. Graceland kicks off the holiday season the final week of November with a lighting ceremony that fills the grounds and mansion with a festive ambience and remains decked out through the month of December. Guests can tour the mansion to see the Christmas decorations that Elvis himself displayed, including a life-size nativity and artifacts from his childhood. Visitors can also purchase a red poinsettia for placement on Elvis' staircase, with proceeds benefiting the Elvis Presley Charitable Foundation.
Beale Street Music Festival
A trip to Graceland in early May allows Elvis fans to experience Memphis' premier musical event, the Beale Street Music Festival. Since its beginning in 1976, this festival has celebrated the city's impact on the recording arts and has featured such talent as Bob Dylan, Fleetwood Mac, Beck, Elvis Costello, Lou Reed and Cat Power. The festival takes place in downtown Memphis' Tom Lee Park, a 25-acre riverfront area. While at the festival, Elvis fans can walk just a few blocks down Beale Street to visit the historic Sun Studio where Elvis made his legendary early recordings.