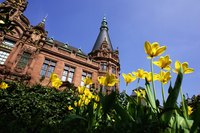 Most Germans love to travel. They also pride themselves on environmental awareness, sustainability and alternative energy. As well as practicing ecotourism abroad, the choice of green places and things to do also is big on the home front. Germany is a cornucopia of natural wonders, including large expanses of forestland, Alpine regions, a northern coastline and plenty of lakes and rivers. Add to that a thriving eco entrepreneurship, and Deutschland makes an ideal ecotourism destination.
Oko Means Eco
You know you're in good hands in a country like Germany for eco-based trips when you look at the facts. As of 2014, Germany has an 85-percent recycling rate; a 25-percent renewable energy in use rate; a 25-percent reduction in harmful emissions since 1990; and a plan for shutting down its nuclear power for renewable energy by 2022. Germany is quite serious about sustainability. There are "green" hotels in most cities, and organic food and fair-trade product markets are commonplace. Try Greenty.com for a start in finding green accommodations throughout Germany.
Rhine Castles Trail
One of the most lovely and romantic regions of Germany is along the Rhine Castles Trail, a UNESCO World Heritage Site. Walk or bike the trails from atop steep hillsides overlooking the river far below. Along the way, you'll come across numerous castles perched above the Rhine, and historic towns with that old German flair. Overnight at campgrounds and green hotels, or spend a couple days at a vineyard or organic farm. The 133-mile stretch is traversable by train or riverboat, so you won't need a car.
Freiburg: The Green City
This Black Forest city is not only a lively university town with picturesque historic streets, but a model of sustainable living known as the Green City. Beneath the towering Gothic minster cathedral, you'll see green belts, pedestrian-only zones and loads of solar panels. With sustainable buildings such as the Solar Settlement or Sun Ship providing solar-powered living and commercial spaces, the city produces more energy than it uses. There is no end to the choice of eco-friendly accommodations, cuisine and products here, and it's a great base for Black Forest excursions into nature.
Eco Spas on the Baltic
The Baltic coast and islands are wellness retreats for Germans to enjoy creature comforts in sustainably built hotels or beach bungalows on scenic backdrops. Indulge in organic cuisine, Ayurveda treatments, saunas and naturopathic medicine while relaxing on Baltic dune beaches at Gingko Mare Medical Wellness Hotel. Take part in sustainability seminars and workshops, or just enjoy the Flensburg fjord-land coast at unusual, 100-percent eco-friendly guest houses with Artefact International Centre for Sustainable Development.