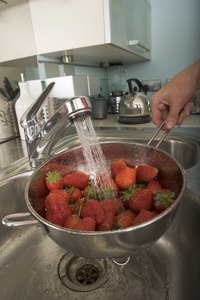 Strawberries are generally one of the most healthful foods you can eat. According to an article published in "Natural Product Research" in March 2013, strawberries are loaded with vitamin C, fiber and folate, as well as plant chemicals that may help ward off inflammation and disease. However, under certain conditions, eating strawberries can be bad for you.
Strawberry Allergy
If you are allergic to the fruit, eating strawberries can cause unpleasant or possibly dangerous symptoms. Having pollen allergies makes it more likely that you'll be allergic to some fruits, including strawberries, which belong to the rose family. Pollen and fruit reactions frequently manifest as an oral allergy, in which your mouth, lips or ears may itch or tingle, according to the American College of Allergy, Asthma and Immunology. Other symptoms can include hives, diarrhea, vomiting and tightness in the throat. Avoid strawberries if you are allergic to them, and get emergency help if you experience serious symptoms, such as if you have trouble breathing.
Pesticide Residues
The Environmental Working Group, or EWG, analyzes testing data from the U.S. Department of Agriculture and the U.S. Food and Drug Administration to rank fresh fruits and vegetables according to the amount of pesticide residues they contain. The group ranked strawberries No. 2 on its list of foods; only apples average more pesticide residues. The EWG does note that it is not recommending that people avoid fresh fruits and vegetables such as strawberries, because their health benefits outweigh potential risks from pesticide residues. But it's a good idea to buy organically grown strawberries if possible, and to wash strawberries right before eating them.
Mold
Strawberries are very perishable and subject to mold. Buy firm, red berries, and toss any berries that look soft or mushy. Do not wash the berries before storing them in the refrigerator, as the moisture could cause them to mold faster. Eat strawberries as soon as possible after buying them. If you see any signs of mold, toss out the whole container of berries. Strawberries are a soft fruit, and surface molds can spread easily into the berry and the berries surrounding it.
Bacteria
Like all foods eaten raw, strawberries can be harmful if they become contaminated by bacteria such as E. coli, salmonella or hepatitis A, according to Texas A&M AgriLife Extension. Don't store berries where juices from raw meats or poultry could come in contact with them. Because strawberries grow close to the ground, they can pick up soil bacteria, so always be sure to wash berries before eating them.