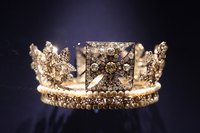 From royalty in ceremonial dress to a high school prom king and queen, crowns and tiaras are iconic symbols of elegance, status and power. Worn by men and women, these majestic headpieces serve a variety of functions -- from a bride seeking the sparkly adornment of a tiara, to a teenage girl bringing splendor to her quinceanera celebration or a fraternal order adding power to their formal attire with a magnificent crown. With a bit of knowledge, you can determine which majestic headpiece is best suited for your celebration.
Headpiece History
Stemming back to the ancient civilizations of Egypt, Greece and Rome, crowns and tiaras have maintained their place in culture as symbols of power. Also known as diadems, both crowns and tiaras have histories as complex as those who have worn them. England's Crown Jewels includes a collection of priceless crowns and tiaras dating from the late 1600s through to modern day. Culturally, tiaras have grown in significance in Hispanic populations as they are now prominent fixtures of a teenage girl's quinceanera, an event celebrating the transition to womanhood. Crowns and tiaras are currently used in weddings, fraternal orders, festivals and pageants.
Twinkle in a Tiara
Delicate and beautiful, tiaras are reserved for women only. These semi-circle headpieces rise over the hair for a stunning embellishment to formal ensembles. Built of flexible metal, tiaras are made to stay in place, but bobby pins can add extra security. Tiaras should be paired with formal attire to match their elegant nature.
Conquer in a Crown
Worn by both kings and queens, crowns are a statement of a ruler's power. Crowns fully circle the head and most can be worn either as the jeweled frame itself or with a velvet adornment of fabric inside to cover the hair -- which is more masculine. For royals, priceless crowns have been passed down through generations of kings and queens. Crowns are best suited for occasions such as Renaissance festivals or implemented into the formal attire of groups such as a fraternal order.
Famous Crowns and Tiaras
With a majestic collection of crowns and tiaras, the British Royal Family has some of the most regal formal headpieces on the planet. Starting with the most iconic piece, the King George IV State Diadem was worn by King George IV, Queen Victoria and Queen Elizabeth II on their coronations. This beautiful piece displays 1,333 individual diamonds weighing 325 carats. The late Princess Diana made the Cambridge Lovers Knot Tiara famous as she often wore it to special occasions and state dinners. Most recently, Princess Catherine brought the Cartier Halo Scroll Tiara into the spotlight when she wore it for her 2011 wedding to Prince William.