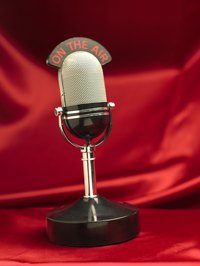 Back in the day, a traditional media plan covered advertising in hardcopy print publications with some broadcast thrown in and a bit of publicity as well. While it may seem that the Internet, social media and omni-channel marketing through smart phones and portable devices have taken over, traditional media still has value. Develop a traditional media plan in conjunction with a digital campaign. Your message should be consistent no matter the media you select for placement.
Power Up Print Publications
Determine what your target market reads and why. Ad placement is based on the size of the ad, the placement within the publication and how many times the ad space is contracted for. For example, you'll receive a cheaper per-ad price if you contract for 12 times a year rather than just once. If your customer base is located in one geographic area, use local publications rather than national. Don't overlook national publications completely; some offer placement regionally. Book ads from three to six months in advance. Holiday issues such as February, October, November and December are sometimes sold out even earlier.
Dynamic Direct Sales
Products sold directly to the consumer or business and not through advertising are direct sales. For example, consumer products that sell better when demonstrated could do well at tradeshows. Business-to-business products that require in-depth customer support depend on a sales person calling on the client one-on-one to explain the product and how it's supported. Another method is sending out sales letters or post cards directly to the customer for his direct response and hopefully, subsequent purchase.
Broaden Broadcast Media
Television and radio advertising are in the broadcast media arena. Don't assume they aren't within your advertising budget range. You may not be able to afford prime time advertising on a national basis -- a super bowl commercial costs about $4 million for 30 seconds -- but you may be able to afford ads on a local station for early morning or late evening programming. That works well if your potential customers are watching programming then or listening to the radio.
Punch Up Public Relations
Think of publicity as unpaid advertising. The company sends a press release outlining a new product, development, staff changes or tips on a timely topic that relate to its product. Reporters and editors receive the press release and, if interested, call the company for an interview and a story. The story is posted online and/or in the news media hard copy publication. Setting up a calendar of potential topics for press releases and developing a media contact list has the potential to result in free publicity.