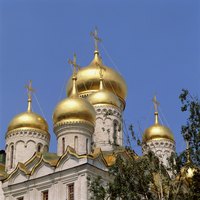 Travel to the old Soviet Union used to be a difficult proposition -- most tourists could only visit if they had a visa and travel itinerary provided by Intourist, the state travel agency established by Joseph Stalin. Today, however, the former Soviet states, which span two continents and five subregions, are far more welcoming to guests. Russia is visited by as many travelers as the United Kingdom, and many countries in Eastern Europe and the Baltics are gaining a reputation for culture and nightlife. Even the more remote central Asian states are becoming favorites with adventurous tourists. While most of the former Soviet states have relatively easy entrance requirements these days, it's still recommended that you check before planning your trip to see if any new rules exist regarding visas, tour guides or letters of invitation.
Baltic States
Tallinn's Old Town, with its twisting cobblestone lanes and medieval markets, dates back nearly 800 years in this Estonian capital. The Dominican Monastery, established in 1246, is the city's oldest building, and the Estonian History Museum is housed in a 15th-century guild hall. The Kiek in de Kök defensive tower and Kohtuotsa viewing platform provide an overlook of the town, and the Luscher & Matiesen Distillery offers wine tastings and tours of its Museum of Estonian Drinking Culture. Vilnius, Lithuania's capital, has one of Eastern Europe's largest Old Town centers. The 17th-century Cavalry Hill and 19th-century Rasos and Bernardien cemeteries reflect its more distant past, while the Jeruzalė Sculpture Garden and Vladas Vildžiūnas gallery showcase contemporary Lithuanian art.
European Republics
The small country of Moldova is actually the world's seventh-largest producer of wine and home to its biggest underground wine cellars. The Milestii Mici cellar's 1.5 million bottle collection holds the world's record for the largest quality wine collection, and the Cricova cellar is so large you can even drive through it. Cricova's museum holds 1.2 million bottles representing 653 different brands, with the oldest ones dating from 1902. In the Ukraine, must-see destinations include the Crimean health resorts, famous for fine wines as well as mineral waters, and the Carpathian Mountains, whose alpine scenery provides a stunning backdrop for hiking or bicycle tours.
Caucasus Republics
The mud volcanoes of Azerbaijan have been named as one of the top wonders of nature by the New7Wonders campaign. These unique formations were created by eruptions from deep mud reservoirs below the earth's surface and have been known to spew flames up to 50 feet high. Georgia is renowned for its numerous resorts -- more than 300 of them in all. The snow-capped mountains of Bakuriani and Gaudari are favorites with skiers, Adzharia and Borzhomi are known for their healing waters, and Abkhazia offers several beachfront resorts along the Black Sea coast.
Central Asia
Turkmenistan offers several attractions for connoisseurs of unique amusement parks. The Alem Entertainment Center in Ashgabat contains the world's largest indoor ferris wheel at more than 156 feet high. Ashgabat is also home to a theme park based on Turkmeni fairy tales and folk art. The park features a Ferris wheel patterned after Turkmeni jewelry, a magic carpet ride made to look like a Turkmeni rug, and a map of Turkmenistan complete with miniature architectural monuments and a replica of the Caspian Sea beneath the park's roller coaster. The ancient Uzbekistani city of Samarkand is known for its many monuments. St. Daniel's Tomb draws Christian, Muslim and Jewish pilgrims to this final resting place of the town's patron saint, while the Gur Emir Mausoleum holds the remains of the 14th- and 15th-century ruler, Tamerlane. Registan Square is surrounded by mosques and other buildings constructed during the Timurid dynasty between 1370 and 1500.
The Russian Federation
The top tourist attractions in Moscow, Russia's capital, are reminiscent of its Soviet past: the Kremlin, which now houses a museum with a collection of jewelry, armor and Faberge eggs, and Red Square, site of Lenin's Mausoleum. Moscow also harks back to its Tsarist days with its 16th-century St. Basil's Cathedral and 500-year-old Arbat Street. Other quintessentially Russian experiences include taking a river cruise down the Volga, visiting the shores of Siberia's Lake Baikal, and riding the Trans-Siberian railway across the Urals and through the steppes on its 6,000-mile journey from Moscow all the way to Beijing.