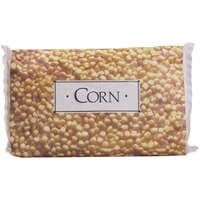 Since corn contains about 32 grams of carbohydrate per cup, you may want to limit your consumption if you're on a low-carbohydrate diet. Otherwise, frozen corn is generally a nutritious vegetable choice and a good way to get closer to the recommended intake of at least 2 to 3 cups of vegetables per day and 4 to 6 cups of starchy vegetables per week.
Frozen vs. Fresh
By the time you actually eat your vegetables, fresh, frozen and canned vegetables have a similar nutrient content, according to the American Council on Exercise. Fresh corn starts to lose its nutrients right after it has been picked, so sometimes frozen corn is even more nutritious than fresh, since it is flash-frozen right after picking. The blanching process that occurs before freezing can cause some losses in heat-sensitive and water-soluble nutrients, such as the B vitamins and vitamin C, however.
Unthawed Versus Cooked
While it may not be everyone's cup of tea, some people like to eat corn straight from the freezer. Don't worry, eating your corn still frozen isn't really bad for you. In fact, since corn straight from the freezer hasn't been cooked as long, it contains higher amounts of the water-soluble thiamine, niacin and vitamins B-6 and C.
Potential Food Safety Issues
If corn is contaminated with organisms that cause foodborne illnesses when it is frozen, these may still be present after freezing. Often, the freezing process only helps keep these organisms from multiplying. Heating your frozen corn to a safe temperature without thawing it first is the best way to limit potential risks for food poisoning. Should your freezer stop working, you can safely consume frozen corn or refreeze it, if it still has ice crystals or if it hasn't been kept at a temperature above 40 degrees Fahrenheit for more than 6 hours.
Other Considerations
You don't need to worry about pesticide residues with corn, as corn is one of the types of produce with the least amount of these residues, according to the Environmental Working Group. You can also safely eat frozen corn that is freezer-burned, which tends to occur if your food isn't properly wrapped, the freezer is not kept cold enough or a food is kept too long in the freezer. Freezer-burned corn may not taste as good or have the same texture as corn that isn't freezer-burned.