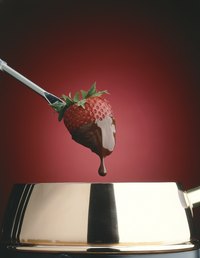 Almost every month contains a holiday or event that promises sweet treats that fuel your sweet tooth cravings. Rather than following an all-or-nothing approach to your diet, try replacing traditional cookies and desserts with healthier options that are satisfying yet nutritious. Fruit dipped in or drizzled with chocolate, baked fruits and frozen fruit bars satisfy your craving for sweets and provide balance within a healthy diet.
Skip Sugar-Free Choices
Sugar-free gelatin, pudding or diet sodas may seem like an innocent enough option to satisfy your sweet tooth, but many research studies suggest this may be counterproductive. One study published in the "Yale Journal of Biology and Medicine" highlights how having "diet" or "light" foods containing artificial sweeteners may actually contribute to weight gain. These supersweet foods stimulate taste buds, but because they do not contain the sugar calories that regular versions provide, this may leave you less than fully satisfied and seeking out other high-calorie foods to fill that void.
Dark or Milk Chocolate
In terms of calories and fat content, dark and milk chocolate are relatively similar, with nine Hershey's Kisses Special Dark chocolates providing 190 calories and 12 grams of fat compared to Hershey's milk chocolate Kisses that contain 200 calories and 12 grams of fat. Dark chocolate contains cocoa flavanol antioxidants and has a stronger, bitter taste compared to milk chocolate's creamy texture. Enjoy either in moderation when satisfying your sweet tooth. Dip strawberries, bananas or fresh pineapple chunks in chocolate, or drizzle a small amount over sliced fresh pears for a healthier option.
Baked Fruits Are Naturally Sweeter
Baked apples or pears are quick and easy to prepare for dessert and a delicious way to add more fruit to your diet. When you need a sweet dessert right away, try microwaving instead of baking apples or pears. Core the fruit and sprinkle with spices such as cinnamon or nutmeg and maybe a sprinkle of brown sugar. Microwave for 3 to 4 minutes. Real whipped topping adds 15 calories and 1 gram of fat per 2-tablespoon serving. Frozen blueberries or mixed berries can also be microwaved for a minute or two and topped with whipped cream for a healthier option than blueberry pie yet just as satisfying.

Frozen Treats
Grown-up versions of ice pops are another way to enjoy a sweet treat without ruining your diet. Frozen fruit bars provide 40 to 80 fat-free calories. These frozen fruit bars are made with fruit juice and puree and are an excellent source of vitamin C. With a variety of flavors like acai blueberry, lime, pineapple, creamy coconut, mango and many others, you're sure to find one that fits your craving.