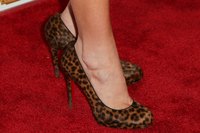 Leopard-print shoes are the perfect accessory to make your outfit roar. Animal prints have been popular for years, and for good reason: not only do they add interest to an outfit, but the right pair elevates an otherwise plain outfit to perfection. When wearing leopard shoes to a wedding, it's important you do so in an understated way. Check your outfit to get the right heel height, color and style, and then pounce the pavement, shopping for the perfect leopard-print shoe.
Get the Details Right
You want your leopard heels to complement your outfit, not take it over. Do this by first deciding what style shoe goes best with what you're wearing. A silky black dress warrants a slimmer shoe style, such as a sling-back heel or an open-toed sandal. A bold platform pump or chunky leopard-print wedge will wreck this sleek outfit. For a sophisticated, classic look, pair a solid-colored dress or outfit with a pointy-toe pair of leopard stilettos. To add interest to a solid-colored outfit with clean lines, wear a strappy leopard-print sandal or heel with ankle straps.
Figure on Flats
If you crave comfort or know you'll be dancing all night, consider wearing a dressy pair of leopard flats. The details on the shoes dress it up – little bows, lace overlay or delicate straps on sling-backs add elegance to flats. The key to wearing flats with your dressy outfit is to pair them with a shorter dress or skirt that is an inch or two above the knee. By showing a little more skin on your leg, you'll be able to get some height back. But steer clear of flats if your dress or skirt is on the long side. Otherwise, your frock might turn frumpy.
Play With Color
If your outfit is a solid hue, you can add even more punch to your leopard shoes with color. When wearing a brown- or cream-colored pantsuit, put on a pair of pink and brown leopard-print shoes for some added fun. It's also important to balance out your materials: A smooth, black, leather dress goes well with fur or suede leopard-prints shoes, while textured trousers look best with a leather or silky shoe. To really heat up the room, wear a red, solid-colored dress with classic black-and-brown leopard-print shoes -- everything from platform pumps to sexy stilettos work well.
Heighten the Heel
For a casual, outdoor wedding you can get a little more playful with your leopard-print shoes. Pair a leather or cork wedge shoe that has a leopard-print vamp with a flowy frock and a leather jacket. If the wedding is a nighttime affair at a classy hotel, stick to a thin heel, whether it's kitten, pump or stiletto. The thinness makes the style more traditional, elongates your legs and adds sophistication to your outfit. For an affair someplace in between, wear a stacked leopard-print bootie featuring a bit of black leather with an A-line dress or a tailored pair of black pants.