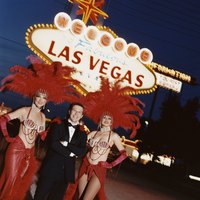 Tucson's mild climate and sunny weather will tempt you outdoors at any time of year, but when your sun-scorched skin drags you back indoors, you'll find plenty of excitement battling one-armed bandits at one of the southwest's many casinos. Ride the bus to Tucson's three casinos on the south side of the city or head out-of-town -- or out-of-state -- on a longer bus trip.
Going Local
Ride the Tucson city bus to one of two casinos on the south end of the city. Travel the Route 27 bus to gamble at Casino del Sol. The bus transports you from the Laos Transit Center in south Tucson to the casino in about 40 minutes between 5:30 a.m. and 10:30 p.m. The casino features a 215-room hotel, spa and fitness center, steakhouse, buffet and sushi bar. Catch Route 29 from the Laos Transit Center to reach Casino of the Sun where you can play 300 slot machines and eat at two restaurants. Route 24 takes you from the Transit Center to Desert Diamond Casino in 20 minutes. The casino has a hotel, steakhouse, buffet and its own night club in addition to traditional casino games.
Get Out of Town
Harrah's Ak Chin Casino in Maricopa, about an hour south of Phoenix, picks up at four locations in Tucson between 7:45 and 9 a.m. on Wednesdays and Thursdays, returning you to Tucson in time for dinner. You must be at least 21 years old to ride the bus. The casino has the largest selection of video and reel slots in the state and you can play a penny or as much as $25. Enjoy a full menu of casino games including blackjack, poker, keno and bingo. Stay overnight on Wednesday and ride back the following night. The hotel has standard rooms with two queens or one king bed as well as deluxe suites up to 900 square feet.
Rollin' to the Riverside
Blissful Bus Tours runs multiday tours to Laughlin via the scenic Wickenburg Highway. The route passes through rugged mountains and crosses dramatic gorges in the scenic Joshua tree forests of the Mohave Desert. The tour includes three nights at the Riverside Resort, which houses not only a casino but a golf course, movie theater, classic car showroom and spa. Additional tour highlights include a ride on a steamboat up the Colorado River and a visit to the nearby historic mining town Oatman, where burros roam the streets and town events include bed races and sidewalk egg-frying contests.
What Happens in Vegas
Catch the red eye with Tufesa bus lines and arrive in Las Vegas in time for breakfast. The 7- to 8-hour trip concludes with stops at four Las Vegas casinos. Get off at the Golden Nugget to swim with the sharks at the Tank, an indoor swimming pool that wraps around a shark aquarium and has a three-story water slide. Watch live circus performances at the casino or venture to the adjacent Adventure Dome indoor theme park to ride roller coasters, a slingshot into the sky or one of 23 other thrill rides. Catch a performance of Cirque de Soleil at Treasure Island to feast like lords and ladies of King Arthur's court at the Excalibur.