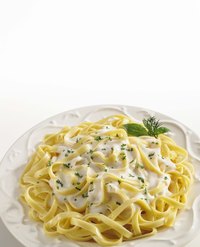 While you might find fettuccine Alfredo delicious, particularly if you like cheese and cream sauce, it is high in fat and calories, making it one of the less healthy pasta-dish choices. You'd be better off with whole-wheat pasta and a tomato-based sauce. However, fettuccine Alfredo does provide essential nutrients, especially if you make a healthy version at home rather than ordering it at a restaurant.
Alfredo Fat and Calories
Restaurant servings of fettuccine Alfredo contain about 800 calories and about 26 grams of fat, including 15 grams of saturated fat. This is almost half of your daily calories if you follow a 2,000-calorie diet, as well as 40 percent of the recommended limit for total fat and 75 percent of the recommended limit for saturated fat. Frozen versions of fettuccine Alfredo aren't necessarily much healthier, although they might provide smaller portion sizes.
Other Unhealthy Components
Fettuccine Alfredo also tends to be high in sodium and cholesterol. A restaurant version provides about 75 milligrams of cholesterol, or 25 percent of the daily value, and 1,480 milligrams of sodium. The American Heart Association recommends consuming less than 1,500 milligrams of sodium a day. Frozen dinner versions of this meal are also typically high in sodium as well.
Potential Benefits
Each serving of restaurant-style fettuccine Alfredo does provide you with about 20 percent of the DV for fiber, 15 percent of the DV for vitamin A, 30 percent of the DV for calcium and 25 percent of the DV for iron. Fiber may help lower your risk for heart disease, high cholesterol and constipation, while vitamin A is essential for healthy vision. You need calcium to form strong bones and iron to make red blood cells, which bring oxygen to the body's tissues.
Making It Healthier
If you love fettuccine Alfredo but don't want all the fat and calories, make it yourself using healthy substitutions. Trade regular fettuccine for whole-wheat noodles to increase the fiber content. Use a mix of reduced-fat sour cream, Parmesan cheese, low-fat milk and low-sodium chicken broth to make the sauce lower in fat and sodium, and add vegetables such as broccoli, zucchini or peas for more nutritional value without greatly increasing the calories per serving. You'll still want to limit your portion size because the calories can quickly add up even in healthier versions of fettuccine Alfredo.