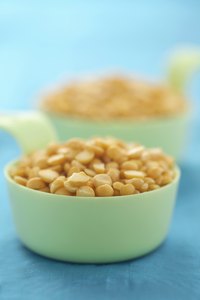 Split peas are a nutrient-dense food, providing significant amounts of protein, fiber, iron, folate, thiamine, pantothenic acid, vitamin K, magnesium, phosphorus, potassium, manganese, copper and zinc. They are also lower in calories and energy density than some other common sources of protein, making them a good choice for people looking to lose weight.
Split Pea Calories
Split peas will help you get the protein you need without consuming a lot of extra calories from fat. Each cup of cooked split peas, or 196 grams, has 231 calories. Compare this to a cup of chopped chicken with the skin, which has 335 calories, or just 3 ounces, or 85 grams, of broiled prime rib, which has 298 calories.
Weight-Loss Benefit
Eating at least four servings of legumes, such as split peas, per week led to improvements in weight-loss results compared to a diet that didn't contain legumes in a study published in "Free Radical Research" in 2007. Consuming a legume-rich diet led to greater weight loss and improvements in cholesterol levels compared to consuming a control diet or a diet high in fatty fish in another study published in the "Journal of Medicinal Food" in February 2009.
Potential Mechanisms
People consuming a low-calorie diet containing pulses, such as split peas, may experience increased feelings of fullness, making it easier to lose weight, according to an article published in "Advances in Nutrition" in November 2010. This effect may be due at least in part to the high amounts of fiber and protein in pulses, which include dried beans and peas.
Calorie Considerations
Simply adding split peas or other types of dried beans or peas to your diet won't cause you to lose weight. You have to consume fewer calories than you use during the day to accomplish this. But substituting split peas for foods higher in calories and energy density, like red meat or poultry, can help you fill up on fewer calories and make weight loss easier. If you eat 2,000 calories per day, aim to consume at least 1 1/2 cups of legumes per week.