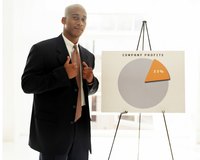 Budget reports keep track of how company spending and revenue relate to budget benchmarks and goals. Quarterly reports help you manage profit and loss margins and make suggestions for improvements and adjustments. They also identify problem areas and pinpoint effective revenue building. Monitoring your budget through reports keeps staff informed on the budget progress and can promote action, so the reports must be delivered in clear and concise language.
Comparisons
An effective way to demonstrate trends, or a break from a consistent trend, is to present year-on-year data in your budget reports. If you present a quarterly report, show the budget goals and actuals from prior years. This could demonstrate if the season is typically slow or if current performance is above or below trend. An issue or unusual revenue gain can foster discussion that corrects the issue or continues the revenue-improving activity.
Goals
To demonstrate where things stand in relation to year-end goals, showcase the projected budget goal for the period. By showcasing this comparison between projections and actuals, you make it very clear where you stand and where improvements can be made. For example, if your company has multiple product lines, with budget goals for each, reflecting the budget goals helps reveal which are strong performers and which are weak links. This could cause shifts in advertising promotions, indicate a need for sales training, or slow purchasing for those products.
Loss
If a business segment is showing losses the budget report is the place to ask why. Solutions for getting the budget back on track should be suggested. For example, you could delve into past years to see who made substantial purchases and when, and then work those sales leads. Ultimately you need to advise a plan to hit the year-end budget goals even with any current losses.
Profit
Identifying profit sources is just as critical in a budget report as showing loss sources. Unexpected revenue can help to balance out underperforming segments of the budget. Identifying unexpected or under-reported sources of revenue can create additional revenue. This could also offer clues that could prove valuable in coming months or years. For example, the excessive profits could highlight a sales representative or sales team that is especially effective. It could also showcase an advertising campaign that had powerful reach.