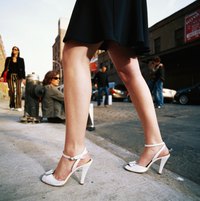 Fat ankles, often referred to as cankles, can make you resort to wearing long pants and boots. Being overweight might be one of the reasons why you have excess fat around the area where your calf meets your foot. Exercises, such as ankle circles, won't reduce this fat -- spot reduction isn't possible. The only way to slim your ankles is by reducing your total body fat through diet and exercise.
About Ankle Circles
Ankle circles are often part of the rehabilitation process for an injury, such as an ankle sprain. This exercise stretches the ankle ligaments and improves ankle flexibility and strength, which is essential during sports, or when you walk or run on unstable surfaces. Ankle circles are done while sitting on the floor with your legs extended. You then make circles with your feet by rotating your ankles. Finish three sets of 10 circles in each direction. Other ankle-strengthening exercises you can do include heel and toe raises, balancing on one foot, step-ups, and pointing your toes away from or toward your body against the resistance of an exercise band.
Reducing Ankle Fat
Reducing total body fat can result in skinny ankles, since the fat surrounding your ankles will also reduce. To accomplish this, an exercise routine that includes calorie-burning cardio and muscle-stimulating strength training is required. The Centers for Disease Control and Prevention suggests doing at least 150 minutes of moderate cardio and two strength-training sessions per week. Cardio should be intense enough so you can't sing, but can still talk, and strength training should target your large muscle groups, with enough resistance so you can't do another repetition after finishing a set.
Making Dietary Changes
Neglecting to change your diet can sabotage your quest for skinny ankles. To lose 1 pound of fat, a daily deficit of 500 calories is needed. In addition to burning calories through exercise, eating fewer calories can help you get closer to your deficit. Limiting your sugar intake, eating veggies or fruits instead of candy, chips and cookies, and eating smaller portions, are some ways you can cut calories. Get nutrients from healthy foods including low-fat protein, whole grains, reduced-fat dairy, and fruits and veggies.
Things to Consider
If you're not overweight and still have fat ankles, various other factors might be to blame. Pregnancy, menstrual bloating, organ failure, a leg infection, poor blood circulation and certain medications, can all make your ankles look swollen. Your doctor can examine you and make a diagnosis and treatment recommendation. Seeing a doctor is also recommended before starting a fat-reduction regimen, especially if you're plagued with injuries or medical conditions.