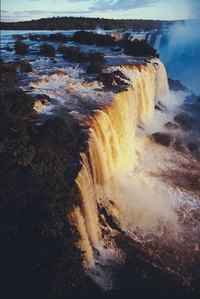 While Paraguay does not border any oceans, the landlocked central South American country does have plenty of water. Major rivers crisscross the country, providing transportation and scenic wonder. Some of the world's most beautiful waterfalls plunge from Paraguay rivers. Dense forests provide homes for endangered species, while scientists continue to discover new species in its lowland rain forests and wetlands.
Gran Chaco
A vast lowland called Gran Chaco comprises more than 60 percent of Paraguay and is the country's largest landform. Gran Chaco lies north and west of the Paraguay River. Characterized by poor soil and a harsh tropical climate, it is Paraguay's least populous region. Winters are parched, while summer rains turn Gran Chaco into a humid swampland. Nevertheless, much of the area is untouched and an interesting place for the adventurous tourist. At the remote Parque Nacional Defensores del Chaco, visitors can spot jaguars, tapir and puma roaming in the dense forest. The park also features a variety of birdlife, including the 6-foot-high jabirus, a stork species. A four-wheel drive vehicle is necessary, and a local guide is recommended.
Paranena
Most Paraguayans live in Paranena, an extensive plateau in southeast Paraguay. Cultivated fields, forests and rolling hills characterize the region, the country's second largest landform. It is also home to abundant wildlife. Easily accessible from Asuncion, Paraguay's capital, Parque Nacional Ybycui features partridges and hundreds of butterflies. Farther north, the hilly, heavily forested Cerro Cora National Park has armadillos and monkeys. Visitors can also experience Paraguay's political past, here, as the park was the site of Paraguay's last and losing battle against the triple alliance of Brazil, Argentina and Uruguay in 1870.
The Pantanal
The Upper Paraguay River and its tributaries form the Pantanal, a wetland that sits between the Gran Chaco and Paranena in the region that extends to Brazil and Bolivia. More than 95 species of mammals inhabit the world's largest inland wetland including jaguars, deer, wolves and giant anteaters. It is also a haven for birds; more than 600 species have been identified, including 15 parrot species. Tours from Asuncion take visitors to the protected areas to view wildlife. It is also a center for biological research where previously unknown flora and fauna are identified.
Rivers, Lakes, Waterfalls and Mountains
While the Paraguay River divides the country into east and west regions, the Parana River flows along the country's southeastern border. At its confluence with the Monday River, spectacular falls drop more than 260 feet to the river below. Nearby, the Iguazu River also flows into the Parana where Brazil, Argentina and Paraguay meet. Just upriver, the world-famous Iguazu Falls tumbles toward Paraguay, and farther south where the Nacunday River meets the Parana, Nacunday Falls rushes over the rocks and drops more than 360 feet. Lake Ypacarai -- one of Paraguay's largest lakes -- sits just east of Asuncion, where recreational sports attract tons of visitors. A worn-down mountain range extends along Paraguay's eastern border with Brazil. The highest peak is Cerro Pero at 2,762 feet.