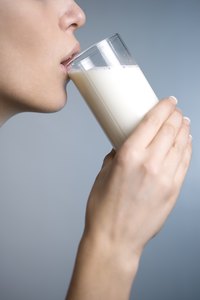 If you enjoy drinking milk, you don't need to give it up just to lose weight. In fact, some components of milk might even improve your weight-loss results. Continuing to drink milk will also make it easier for you to get essential vitamins and minerals, since it is a good source of calcium, riboflavin, vitamin B-12, phosphorus, potassium and selenium and is usually fortified with vitamins A and D.
Appetite Control
Trade in juice or soda for milk during meals to make them more filling. The protein and calcium found in milk may help you control your appetite, according to a study published in the "British Journal of Nutrition" in January 2011. Obese women in the study following a low-calorie diet who drank milk stayed full for longer than those who drank a control beverage with the same number of calories.
Weight Loss
Choosing low-fat milk is better for weight loss than drinking soy milk or just taking a calcium supplement, according to a study published in July 2011 in "Nutrition, Metabolism and Cardiovascular Diseases" that looked into the effect of calcium on weight loss. Study participants consuming three servings per day of low-fat milk while following a weight-loss diet lost an extra 3.7 pounds during the eight-week study compared to people in the control group who followed a low-calorie diet including between 500 and 600 milligrams of dietary calcium per day. They also lost slightly more weight than those drinking three glasses per day of soy milk and those following the control diet and taking an additional 800 milligrams of calcium supplements per day.
Body Composition
Drinking milk during your weight-loss efforts may help you improve your body composition. Not only can milk help you lose fat, the branched chain amino acids it contains will help you build muscle if you exercise or maintain what muscle you already have if you don't. So you end up with less fat and more muscle than when you started dieting, according to an article published in "Nutrition & Metabolism" in 2013. If exercise is part of your fat-loss efforts, drinking fat-free milk after your strength-training workout will increase your muscle more than soy milk or a carbohydrate snack containing the same number of calories, according to a study published in the "American Journal of Clinical Nutrition" in August 2007. Because muscle burns more calories than fat, increasing your muscle mass can help you lose weight.
Type of Milk
During weight loss, fat-free milk may be the best option since it is higher in protein and calcium and lower in calories than 2-percent or whole milk. Each cup of skim milk only contains 83 calories, while a cup of 2-percent milk provides 122 calories, and whole milk has 149 calories per cup. The key to weight loss is still consuming fewer calories than you use throughout the day, so you'll get the most benefits from the milk with the fewest calories. Skip flavored milks, as these are high in sugar and calories even if you opt for one made with fat-free milk.