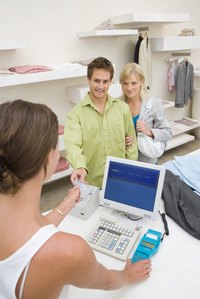 Managing a retail entity demands long hours and takes tremendous preparation. You must push sales, hire and train staff, maintain equipment, ensure the store meets code, and polish off paperwork. With so many duties, store managers understand the importance of thinking strategically. They align sales goals, staffing and merchandising with customer needs through performance analysis and calculated guesses on future operations. Successful managers might differ in their styles, but all have one thing in common -- they plan ahead.
Know the Flow
Customer volume varies by location and store size, but generally, Monday through Wednesday will be slower days, so you need less staffing. Thursday brings a pick-up in traffic, Friday more so, and Saturday should bustle. Sunday typically fluctuates. Local events will probably increase customer volume. For example, if an adjacent store offers a huge promotion, your store will probably see some of that foot traffic. Learning your customers' traffic patterns will help you forecast staffing needs.
Set the Schedule
In retail, general managers typically close one night a week and work two Saturdays a month. Assistant managers typically close two nights a week. During the holidays, GMs work three Saturdays a month. Sales associate hours vary widely, but so does their availability. Make sure your employees complete availability forms so you can schedule accordingly. Ensure higher sellers work Saturdays. If possible, schedule at least two sales associates for the sales floor to increase customer service and lower loss-prevention risk. Corporate will probably set limits on the hours you can give staff members, but avoid staffing a sole person. If you must, save this minimal staffing for earlier daytime hours.
Get the Goals
Each month, corporate should send monthly sales goals. From there, develop a daily sales plan. Allocate a percentage of sales each hour totaling 100 percent for the day. If you open at 10 a.m. and close at 9 p.m., you have eleven hours to divide 100 percent. For example, you will reach your first goal at 11 a.m. Since it's early, you might plan five percent of daily sales for this hour. However, approaching 2 p.m., you might define 20 percent as your target; hence, you allocated 25 percent. So, if you set a daily goal of $1,000, then expect to make $50 the first hour (10-11 a.m.), and $200 for the hour between 1 p.m. and 2 p.m. Setting hourly goals motivates employees and helps you track sales performance.
Eye the Inventory
You should receive shipments weekly. Inspecting product takes time, but it's imperative you match the inventory with its packing slips. Most stores have an inventory protocol. For example, in some women's clothing stores, purses get stuffed and put on racks immediately. How your store functions will determine your procedures. Also, monitor sell-through rates. These numbers tell you how fast your items sell in a period of time. For example, if you receive 10 sweaters in shipment this week, and five remain next week, the sell-through rate equals 50 percent for the past week. Use this tool when focusing on in-store marketing and when deciding to send products back to warehouse.
Verify the Visuals
The store should have a clean look. Lighting should complement your displays, yet not overpower them. Avoid clutter, but promote as many products as you can. Asymmetrical displays appeal to customers best. Use subtle colors on walls and change mannequins frequently. Set a date, usually a day or two after shipments, to dress mannequins in new arrivals. When placing merchandise, arrange high-theft items so staff can clearly see them from many angles. Position smaller, popular items closer to the registers.