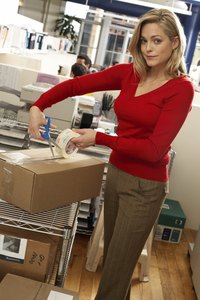 Whether you prefer round, shaped or asymmetrical, necklines dictate the type of accessory that works best with your top or dress. Because frocks and blouses differ, wardrobe stylists play with accessory designs, styles and length to accentuate the neckline or highlight the piece. Borrow looks from your favorite celebs and recreate the style selecting necklines and accessories from your everyday wardrobe that have similar qualities. Include your dress or top's neckline as your styling guide to choose accessories that blend and harmonize with your outfit for a cohesive ensemble.
Styling the Jewels
A traditional high-neck, round in shape are referred to as jewel necklines. This shape fairs well donning chunky baubles. Wear a faux-jewel turquoise and gold necklace that overlaps the neckline to highlight the neckline's shape and your overall look. Pair the colorful baubles with a flirty cobalt blue, jewel-neckline frock with a form-fitting, sleeveless bodice and full skirt in a mid-thigh length with your beige, ankle-strap heels for a sophisticated ensemble. You can also go for collar and choker necklaces to accentuate the round jewel neck. As an alternative, choose a collar necklace with specific details, such as a tipped, snake's head with jeweled eyes.
It's All About the V
Whether you're sporting a top or frock, V-necklines are often used to shift the focus upward to the neck area and away from other parts of your ensemble or shape. Choose necklace lengths and embellishment shapes that resemble the neckline, such as large pendants. You can wear a yellow-ochre color V-neck top with a Y-necklace -- a rectangle-shaped pendant creating a Y-like shape -- in gold tones. If you're wearing a wide, V-neckline with cleavage, wear a striking tribal bib necklace or a large, faux-jewel teardrop.
Notable Curves
Look through your closet for top and frock necklines with notable curves. Whether you're donning a sweetheart with a decolletage, a deep U-shape or a draped cowl neck, these curvy necklines call for shaped accessories. Look through your jewelry drawer for necklaces that have similar width embellishments or trims as your neckline. For example, you can pair a statement-making medallion with an open decolletage. If you're wearing a scoop or bateau neck, select long-length beaded, pearl or chain necklaces that drape over the neckline shape.
Mod and Asymmetrical
Don't shy away from modern, structured and angular asymmetrical neckline tops and frocks. Go for pieces that have the same asymmetrical design influence to harmonize the accessory with your neckline. Wear a form-fitting, metallic-coated frock with an asymmetrical neckline and pair it with a silvery bib necklace that has angled-cut dangling chains. The same applies to square necklines that often create the illusion of sharp, angled seams. Wear a pendant with angled cuts that reflect the sharp slant.
Less Is More
Defined necklines are often the star of your top or dress. Less is more when styling these necklines. Go for minimalist accessories or none at all to highlight the defined shape, such as plunging V-necks, high-neck crews or drapy cowl necklines. For instance, wear a neon yellow, crew-neck frock in a sheath-like silhouette paired with neon fuchsia stilettos and silver accessories. You can wear a modest silver choker with studs and links or leave your neckline free to highlight the round shape pairing your ensemble with a chunky, silver bracelet.