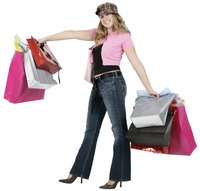 While every woman wants an amazing wardrobe, many don't have the pocketbook to go with it. That doesn't mean that it isn't within reach, of course. If you know what you're looking for, remember to stay away from trends and choose enduring basics. Because a truly great wardrobe is a dream that any chic girl can make come true.
Staples
Look back 10 years and you'll probably realize that the pieces you wore the most often then are the same type of go-to favorites you love today. Make a list of the pieces that you use the most and narrow your focus so that those items are purchased first. Some of the tried and true include a good leather handbag and a grown-up dress that goes from business meeting to romantic dinner without missing a beat – and no one will deny that a great, well-fitting pair of jeans is always welcome in every woman's wardrobe. Add to the list jackets and sweaters that can be dressed up or down, well-tailored slacks, and a versatile coat, and you have the basic foundation for timeless chic.
Quality
A chic wardrobe is built on quality, not quantity, which means that the pieces you select today will be a part of your wardrobe for years to come. Shy away from the junior department and focus your energy in high-end outlet stores where the chances of finding expensive garments at budget prices is much higher. Look for tell-tale signs of quality such as good, strong seams, sophisticated accents, and expensive-looking buttons.
Colors
With every season comes a new color palette, and nothing makes an outfit look dated faster than last year's hot color. This faux pas is easily avoided by leaning towards neutrals such as taupe, black and navy, as well as jewel and earth tones. Since one of the main benefits of this palette is the ease at which you can mix and match outfits, it's a good idea to stay away from patterns and bright colors that are not only easily remembered, but are more difficult to interchange with other pieces as well.
Accessories
If you're feeling constrained by your chic wardrobe guidelines, have no fear. Splurging on necklaces, belts and other sparkly bangles is a great way to indulge your attraction to seasonal trends. Not only is the investment minimal, these fun additions have a surprising way of retaining a longer fashion shelf life as well.