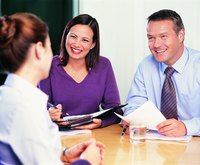 Before bringing in a new manager, map out a plan that identifies the duties of the new manager and the goals the successful candidate is expected to achieve. An action plan includes a list of qualifications you look for in candidates to streamline the hiring process and hire the best candidate for the job. According to the Society for Human Resource Management, recruiting and hiring a new manager can cost anywhere from 50 percent to more than 100 percent of the employee's annual salary.
Write a Job Description
The first step in the hiring action plan begins long before you read the first resume. To hire the most effective manager, write a detailed description of the role you want your manager to play. Consider all the work that you can't get done yourself or through a contractor to confirm you need to hire permanent staff. After you've developed a list of duties, write down the ideal qualifications you hope to find in the new employee. If specialized training is required, you may seek applicants with a college degree or specific certifications.
Put the Word Out
Internet and classified ads attract a large number of applicants, especially if your business is located in an area undergoing a soft economy. Instead of relying on the mass-market classifieds that may draw a significant number of unsuitable candidates, call your peers, business associates and friends to ask for referrals. Attend professional association networking events to find a managerial candidate who's accustomed to working in a flexible environment. Look for candidates who are willing to wear multiple hats and grow with your company.
Offer an Incentive for Referrals
Include measures in your action plan to examine your current employees for suitable new management candidates and ask your staff for recommendations of potential managers outside the company. Typically, employees won't recommend someone who may perform poorly because the person's behavior can reflect negatively on the referring employee. At the same time, employees have a stake in helping you find a suitable, easygoing manager. Offer an incentive to the employee who makes a successful referral. According to the Society for Human Resource Management, common bonuses for referrals range from a $25 gift certificate to a $200 cash incentive.
Create an Ad
If you exhaust your pool of referrals without finding a likely management candidate, create an advertisement and run it on online job boards. Many options are available for free posts that are widely read by job hunters. Clearly describe the requirements and give explicit instructions for how to submit a resume. When applicants don't follow simple directions from the start, you know you can eliminate them as possibilities. Narrow the field of applicants and interview the best four or five candidates. Prepare for the interviews before the candidates arrive to cover all the important aspects of the job and get a real feel for the candidate's personality and work ethic.