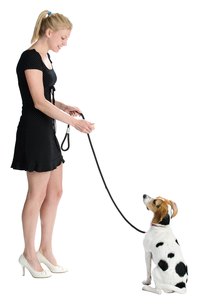 Dog tie outs are constructed from numerous materials. Chain, cable and rope are all common options. Every tie out has the potential to tangle regardless of material construction. To prevent tangling, you must locate the tie out away from obstacles and use an effective staking system. You can purchase manufactured tie out systems or build your own with common materials found at hardware stores. Always supervise your dog when you tie him out.
Retractable Cables
The retractable cable systems are designed to prevent tangles. The systems use a spool that maintains a relative distance between the source and the animal. The cable never has slack and will not knot or tangle. The lack of slack also keeps the cable off the ground and reduces the chances of catching on obstacles. The cable systems are typically available with 15 to 20 feet of lead. Different cable weights are available to hold small and large breeds.
Metal Chains
Chain tie outs are a traditional standard and they work well. Chain links do not tangle often and the heavy duty options are ideal for strong dogs. Many of the cable systems are too weak for large breeds and they will flex until the dog snaps the lead. Chain tie outs are available from most pet stores with the stake system included in the package. Chains are also a good choice when obstacles are present. Other materials will experience wear from rubbing, but chain leads do not wear.
Build Your Own
Build a tangle-free tie out system with a visit to your local hardware store. Select a coated cable or chain from one of the bulk storage spools and cut your desired length. Determine the length in advance based on the space available where you will locate the tie out. Hardware stores sell the materials by the yard and buying a few extra yards will leave room for adjustments. Buy a heavy-duty stake, cable crimps, collar clips and a shackle large enough to rotate around the stake. Bury the stake and hook the cable or chain to the shackle. Clip the system to your dog and the swiveling shackle will provide freedom and prevent tangles.
Staking Systems
Proper staking is an important aspect of preventing tie out tangles. The common screw stakes sold with tie out packages are weak and they fail frequently. Use a deep, hammer driven stake or a metal pipe to secure your pet. Use a swivel at the tie down point to prevent the lead from wrapping around the stake. The swivel also allows the dog to move freely.