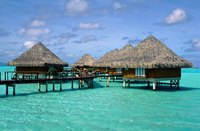 Bora Bora's reputation as one of the most visually-stunning tropical islands is well deserved. Its picture-perfect beauty is evident in the dazzling blue lagoons teeming with sea life, a lush tropical interior hiding ancient temples and two majestic volcanic mountain peaks. Part of French Polynesia, Bora Bora is built for romance and is among the most popular honeymoon destinations in the world. Whether you are celebrating your honeymoon, anniversary or other romantic occasion, this tiny island has plenty of romantic spots, entertainment and adventures around every corner.
Over-The-Water Bungalows
A romantic vacation in Bora Bora has to start by staying at one of several hotels that offer over-the-water bungalows. These bungalows offer the utmost privacy while giving you an unbelievable experience with the water literally at your doorstep. One of the most luxurious to consider is the Four Seasons Bora Bora, which offers five different types of over-the-water bungalows. All include Polynesian-style furnishings and bathrooms with whirlpool tubs that overlook the ocean, and some include their own private plunge pools. If the Four Seasons is out of your price range, you can still take advantage of these bungalows at the moderately priced Hotel Mai Tai. These more modest over-the-water bungalows also offer privacy and stylish furnishings. They include a glass coffee table through which you have a view of the ocean below and a private balcony with direct access to the main Bora Bora lagoon.
Private Adventures
Explore the beauty of Bora Bora with your love on romantic and exciting outings. If the two of you enjoy hiking, you could take a hike up Mount Pahia, one of two volcanic mountain peaks on Bora Bora, or hike through the Valley of the Kings to see ancient temples and tombs. You can also take a private helicopter tour of the island for a one-of-a-kind view. Take a Jeep safari tour through the lush interior of Bora Bora and lean about the culture and history of the island. One Jeep tour company, Vavau 4X4 Adventures, offers a private sunset tour that includes stopping at a secluded lookout point to watch the sunset while enjoying a glass of champagne.
Love on the Water
With its world famous lagoons, Bora Bora has no shortage of water activities to take advantage of with your sweetie. Sign up for a private submarine dive with Bora Bora Submarine, which has a small, glass-enclosed submarine that can take you as deep as 100 feet below the surface, where you'll see plenty of tropical fish and a variety of sharks up close and personal. You can also opt for an aquabike, which is a personalized submarine and scooter that you can drive and navigate with underwater. Aquabike Adventure offers two-person aquabikes so you and your love can navigate the waters of the lagoon together. Another idea is to take a photo excursion with Bora Bora Photo Lagoon, which takes you on a boat tour of the lagoon where a photographer will take romantic photographs of you and your partner in the water and on the boat at peak sunlight times, such as sunrise and sunset.
Cultural Explorations
French Polynesia is famous for its black pearls, known as Tahitian pearls. At "The Farm," run by the Bora Pearl Company, you can watch the process of how a Tahitian pearl is created and farmed from black-lipped oysters and even dive for your own. If you're lucky you may find a pearl inside to give your sweetie. However, you must pay for any pearls you find, and they guide you into their pricey jewelry store to purchase something, whether you found one or not. You're more likely to find more reasonable pearl prices at a market in Vaitape, the main village on Bora Bora. You and your love can also enjoy a private spa experience, including a Tahitian massage, known as taurumi maohi. Most top hotels will offer in-room massages, but you can visit any of their spas for the experience as well. Finally, don't miss a mesmerizing Tahitian dance performance that includes fire dancers. Among the main island hotels, there is at least one show daily that you can catch.