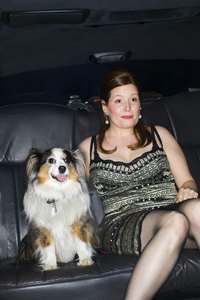 Despite their name, Australian Shepherds (Aussies) actually developed in the United States and have been a recognized breed since the 1950s. While the larger version of the breed came first, the toy and miniature versions also have become popular more recently. Understanding the differences between these three distinct, but related breeds can help you choose the best canine companion for your needs.
The Standard Australian Shepherd
With its herding instincts, it's no surprise Aussies have long been associated with sheep herding. They also are known for their intelligence and protective nature. The standard version of the Australian Shepherd should range from 18 to 12 inches in height, with the female being shorter than the male. The dogs also should be just a little longer than they are tall. In terms of weight, this breed is between 40 and 65 pounds, with the female usually weighing less. Several coat colors also are acceptable for the breed, including blue or red merle, black, and red.
The Miniature Australian Shepherd
Miniature Aussies were developed thanks to the efforts of a breed enthusiast in California in the 1960s. She encountered several small versions of standard Aussies working in rodeo shows and decide to begin selective breeding to create mini versions. In 1993, the American Kennel Club began accepting these miniature Aussies into their shows. As their name suggests, the main difference between the miniature and standard versions of Aussies is their size, with the former being between 14 and 18 inches in height. Miniature Australian Shepherds should weigh between 20 and 40 pounds.
The Toy Australian Shepherd
Toy Australian Shepherds came about after the miniature Aussies were developed. As one might expect, the toy version is even smaller than the mini. They should be between 10 and 14 inches in height. In fact, dogs that are smaller or larger are disqualified from being shown, according to the Toy Australian Shepherd Association of America. Toy Aussies should weigh less than 23 pounds, with most falling between 12 and 17 pounds. Like the standard and miniature versions, toy Aussies are intelligent and can be good working dogs.
Health Issues
Because all three sizes of Australian Shepherd originate from the standard breed, they share some common health concerns. Australian Shepherds can be affected by a variety of eye disorders, including iris coloboma, juvenile cataracts, offset pupils, and persistent pupilary membrane. Merle colored Aussies also may be vulnerable to other types of eye disorders associated with the genes for their coloring. Dislocated kneecaps and hip dysplasia also can occur in all three sizes of Aussies. Herding dogs, in general, can suffer from dangerous drug sensitivity, so Aussie owners may want to have genetic testing conducted on their canines to determine the safety of medications before administering them. For example, the worming medication Ivermectin is not recommended for standard or miniature Australian Shepherds.