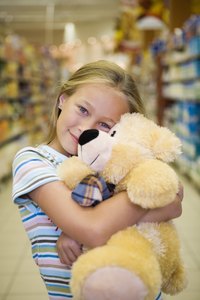 The American toy industry exports its products worldwide, but Canada and China are significant markets. American toymakers had earned revenues of $28 billion by September 2013, according to a "snapshot" report by industry analyst IBISWorld. The industry's annual growth showed a downtrend of 1.5 percent between 2008 and 2013. Although demand is likely to rise, corresponding profits for American companies might not show an uptrend because of fierce competition.
Industry Offerings
While young children are the largest target market for toys, the industry also caters to teens and adults, judging by the $100 billion global toy market. The industry offers specialized toys for babies, and games, coloring books and puzzles for toddlers. Older children can choose action figures, dolls and items they can use in role-playing games. Complete hobby kits, as well as arts and craft sets, are available for creative types, and electronic toys, video games and building sets evoke interest in teens and adults. Toys for indoor and outdoor play include team sports accessories and playing cards.
Statistics and Trends
Demand for toys typically shows a rise from July through December because of the holiday season. To create demand in other months, companies often offer products that help children in their academic studies. They also market sports-related toys at this time. With the emergence of hand-held electronic devices, demand has also shifted toward electronic toys such as video and computer games. Companies are attempting to incorporate computers into traditional toys to maintain an interest in them among tech savvy kids. While most toymakers across the U.S. have their own toy designing, developing and marketing departments, many companies have set up manufacturing units in other countries for toys slated for distribution in America. The industry also supports freelance toy developers and innovators who sell their designs to larger companies.
Licensing and Regulations
Toys marketed to U.S. buyers must pass stringent safety tests, and all companies, domestic or foreign, must conform to Consumer Product Safety Improvement Act standards. Independent labs credentialed by the federal government conduct extensive testing to determine whether or not a toy is safe. They also check to make sure toys are free of toxic chemicals that can harm children. The industry attempts to educate parents and guardians about the importance of picking the right toys for children that are safe and assist in child development. Aside from meeting safety norms, companies often add licensing for an edge over the competition, linking their products to popular TV shows, movies and books.
Entering the Industry
Companies wanting to enter the toy industry might need substantial funds for investment in storage, marketing and transportation. Computer technology to connect wholesale dealers with outlets, such as department stores, malls, and other big retailers, also might be helpful. These companies need to identify their ideal customer niche and market their products accordingly. For example, they must consider income levels, as well as age group, when they develop and market plans for video games. Companies often outsource production to save on labor and other costs. Or they set up units at more economical locations so they can purchase parts from other companies and later assemble them into finished products.