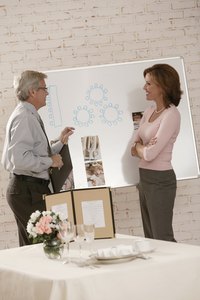 Marketing and branding strategies for a catering business go hand in hand, helping you create a niche so you can better target specific customers. Not only will the right marketing strategies help you create a consistent message, they can also let you to target multiple audiences with different product offerings.
Cook up a Unique Selling Benefit
The first step in creating a marketing plan is to determine what type of catering services to offer. You might target businesses, charities, upscale consumers or social groups. This will help you create a specific brand, focus your promotional activities and send a consistent message. Perform a marketplace analysis to determine what competition you have in each niche and how easy it is to target customers, if you can match a market segment's demands and beat the competition, narrow down your target market to match your expertise. Survey potential customers to learn about their use of caterers and what they are willing to pay to help you create sales projections.
Make More Than One Batch
You don't have to choose only one target customer, but you might have to create separate brands for each business line your create. For example, if you want to provide in-home catering for affluent consumers and service corporate events, consider creating different websites, brochures and menus for each. While many caterers list different specialties on their websites, if you create different brands under different names you can position yourself as a specialist in several different niches. A company that takes on too many specialties under one brand name risks turning off clients who want someone more specialized. Think about the client who wants canapes and champagne seeing your website's page promoting hot dogs and pizza to youth groups.
Research Your Ingredients
You'll have myriad promotional opportunities for getting the message out about your catering business and might not be able to afford them all. Your marketing options will include direct mail, print, broadcast and website advertising, social media campaigns, cross-promotions, attending festivals and holding tasting parties. Research which options will reach the largest number of your target customers within a budget you can afford. TV, radio, magazine, newspaper and digital media provide advertisers with media kits that give audience demographics and advertising costs.
Give Healthy Servings
Once you've researched your marketplace, decided on your unique selling benefit, created your brand and chosen your promotional methods, start getting your message out. Rather than giving everyone you can a single taste of what you have to say, focus on giving your most likely customers multiple messages. If you're going after corporate business, you might advertise in local business newsletters, send a direct mail piece to the office and offer to cater a chamber of commerce business function to let meetings planner sample your food. If you're going after upscale individuals, donate your services as a prize at a charity auction to showcase your business and distribute your brochures, then use any email addresses you get to send social media messages. Cross-promoting your business with florists, photographers, DJs and churches might get you repeat referrals with the same potential client.