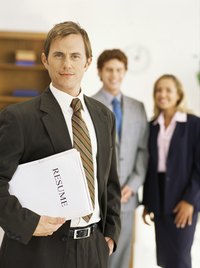 A massive hiring might mean an influx of business for your company, but for your human resources department, it likely means a significant increase in workload. Consequently, if your business is expanding and you're considering a large-scale hiring effort, you might want to consider expanding your HR department alongside the rest of your business.
Increase in Paperwork
An increase in hiring means your HR department will have to fill out a wide variety of paperwork such as employee benefits applications, direct-deposit forms and payroll information. Your HR department may also have to ensure employees sign sexual harassment policies and similar documents. This usually means a significant increase in paperwork that may mean more time spent downloading, printing and processing documents.
Training Obligations
Your HR department may be tasked with coordinating training schedules across a variety of departments. If employees are required to complete certain training sessions prior to beginning their work, your HR department will also have to keep track of who has completed training and ensure that no one slips through the cracks. This can require weeks of scheduling and a significant degree of cross-department coordination.
Meeting Legal Obligations
In addition to filling out paperwork specific to your company, HR will have to ensure your business meets its legal obligations. For example, some states require employers to complete E-verify to show evidence that employees are authorized to work in the United States. Your HR department may also be tasked with ensuring new employees and contractors sign their contracts and that the contracts are kept in the employee's file or delivered to the right entity within your company.
Potentially Increased Costs
Depending on the size of your HR department, you might see an increase in HR costs as a result of a mass hiring. HR might need to outsource some duties or contract with billing and other service providers to ensure that everyone's paperwork is completed in a timely fashion. Everyday business costs such as paper and toner for your company printer might also increase depending upon HR's paperwork load.
Consultation With Other Departments
A hiring increase won't just affect HR. Your legal department may have to review contracts, and your accounting department may have to adjust your budget and file tax forms. This means that HR will have to work in cooperation with other departments to compile documents and ensure employees have met all the necessary prerequisites to work at your company. Your HR department may also have to double-check the work of other departments to ensure it complies with your hiring policies.