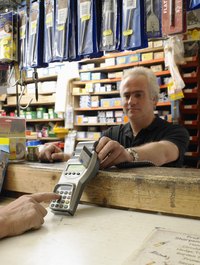 Market segmentation is the process of defining a group of target customers in demographic, psychographic, geographic and behavioristic terms. Developing a market segmentation plan can guide your product-development and marketing efforts toward a cohesive customer group, allowing you to more effectively serve them with products they need and want in ways that resonate most effectively with them. Writing up and developing a market segmentation plan involves defining your target market or markets in terms of each of four segmentation variables, then combining the various definitions for a complete customer profile.
Define Your Geographic Reach
Determine the geographic characteristics of your target market, including the reach of your product distribution or service delivery. List any defining climate characteristics of the area, such as a high annual snowfall or the prevalence of mountainous regions. The geographic reach of your target market can be defined in terms of states, regions, countries or continents, or even by city. When defining your reach, begin to think about how geographic considerations might affect consumers' buying behavior and product preferences.
Define Target Demographics
Demographic information includes age, gender, ethnicity, education and income among your target market. Each of these characteristics on its own can inform marketing and product-development decisions, but combining all of the elements together can create a much more useful and specific customer profile. For example, knowing that people in your target market are in their early 30s is useful, but knowing that they are also white males with some college education and an average income of $40,000 per year is even more useful. Define as many of these elements as possible, but avoid forcing a definition if it is not truly relevant. If your products appeal to consumers of any age, for example, do not force yourself to narrow your target market to a specific age group.
Define Target Psychographics
Psychographics represent the common psychological elements of your target customers' personalities that influence their behavioristic traits. Self-image and worldview are major components of psychographics. Some people consider themselves to be savvy shoppers because they find the best deals, believing thrift to be a virtue, while others see themselves as upper class, believing lavish spending to be a sign of social status. Knowing this about your customers provides a wealth of strategic input for marketing decisions. Customers' psychological needs and biases come into play heavily in psychographics, as well, encompassing things such as biases toward safety or adventure, independence or social belonging, personal expression or private enjoyment.
Define Behavioristics
Understanding your target market's behavioristic traits can help you to design experiences that resonate with customers' preferences. Behavioristics specifically deals with target customers' shopping and buying habits, which can be greatly influenced by their demographic and psychographic traits. Behavioristics defines whether a group of consumers favors impulse purchases or extensive product research before buying, or whether they tend to save for large purchases or use credit. Behavioristics defines whether people prefer to shop online or in a store, and whether they prefer guidance from salespeople or an independent shopping experience.