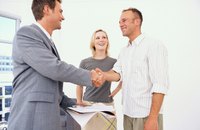 Setting prices is a fundamental part of marketing that affects everything from a company's ability to attract customers to how much cash it makes on each sale. A flat rate pricing model is a pricing structure by which a company charges a fixed fee for a service instead of charging based on the amount of use of the service or the cost of providing service. Flat rate pricing is common in businesses that sell subscriptions, although contractors and other professional services providers can also charge flat rates.
Rewarding Productivity
A flat rate pricing scheme gives a business the incentive to be as productive as possible in providing services. Under flat rate pricing, companies make revenue quicker if they are able to perform more work in a given amount of time, so productivity gains translate directly into more profit. For instance, if a web developer charges clients a flat rate for each website completed, he can make more money by completing websites faster. On the other hand, if the developer uses an hourly pricing scheme, working faster won't change the amount of cash he earns in a given amount of time.
Complexity
A flat rate pricing structure is easy for people to understand. When faced with a flat rate, customers don't have to worry about how much a service will end up costing, as the price is known upfront. With services that charge for usage or the amount of work performed, prices can vary significantly from one customer or project to another. Customers may be displeased if they end up being charged more than they expect.
Differing Consumer Needs
One of the main drawbacks of flat rate pricing is that it ignores differences between consumer needs and the difficulty and cost of providing services to different consumers. For instance, internet service providers may charge two customers the same rate even if one uses 50 times more bandwidth than the other. Flat rate pricing may end up making services too expensive for people who just want a basic level of service while charging heavy users less than they would be willing to pay.
Service Quality
A flat rate pricing model has the potential to negatively affect service quality. For instance, a web developer that charges by the hour has incentive to do as much work as necessary to get the job done well, since he makes more money for doing more work. A developer with a flat fee pricing structure might rush to get jobs done quicker, since spending extra time on a project doesn't translate into extra income, and this could lead to a lower quality in the final product.