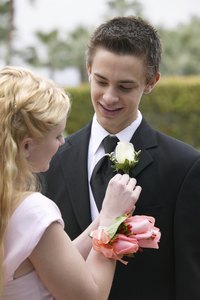 Your junior or senior prom is one of the biggest events you'll attend during your high-school years. It's a formal affair, so this is your chance to dress your very best. Even if you're normally clueless about fashion, you'll look put together for prom with the right jacket, slacks and other accessories.
Tuxedo Jacket
A black tuxedo jacket is what many young men usually wear to the prom, so it's your safest bet if you'd like to fit in with the crowd. There's no rule that says you must wear a black tux, though. Try a gray or white tuxedo if you want to stand out a bit. Consider wearing an attention-grabbing colored jacket if you're feeling bold -- but first make sure that your date doesn't mind. Tuxedo jackets come in different styles such as the double-breasted peaked label or the single-breasted shawl collar. Try on different styles at a menswear store to find the one you like best.
Buying a tux isn't cheap, so rent one if you so desire. Order your tux in advance. If you reserve one at the last minute, you might not have time to get it properly fitted. A fitted jacket is a must if you want to look sharp, not sloppy. The jacket's sleeves shouldn't go past your thumbs, and the shoulder seams should sit on your shoulder instead of further down the arm. Ask a tailor or employee at a menswear store to fit your jacket for you.
Shirt and Tie
Pair your jacket with a crisp, white dress shirt if you're going for a traditional look. If you want something different, try a shirt of a different color, such as red, green or pale blue. Wear a shirt with a stiff vertical placket, or band, running down the center of it. Opt for a shirt with a raised collar, French-style cuffs and stud fasteners instead of sewn-on buttons.
Wear a bow tie if you're going to the prom in a tuxedo jacket. Many tuxedo rental shops will include a clip-on bow tie with your jacket. If the store doesn't offer this, either purchase a clip-on or tie the bow tie yourself. If you plan to wear a sports coat, not a tux, wear a necktie instead of a bow tie.
Pants and Shoes
If you're wearing a black jacket, you should also wear black slacks. For something a bit different, you could also try gray slacks. Whichever color you choose, the pants should ideally be made of the same material as your tux jacket. Good pants have a satin stripe running up the outside of each leg. Pick pants that have suspender tabs inside the waistband instead of on the outside. You'll use suspenders, not a belt, to hold up your pants.
If you already own a pair of black dress shoes, wear them to the prom instead of buying a new pair. New shoes need time to break in, and you don't want to have aching feet after a few hours of dancing. Clean and shine your shoes before wearing them.
Corsage and Boutonniere
At the prom, a girl often wears a corsage and her date puts on a single flower, called a boutonniere. It's traditional for the girl to buy the boy's boutonniere and for the boy to purchase her corsage. Talk to your date about what she's wearing and what colors and flowers she likes. Roses and carnations are two good choices for prom. Don't go for anything too big or bold -- a modest-sized flower and a sprig of foliage works well.