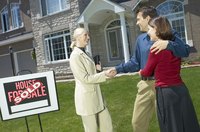 When you purchased your home, you likely paid thousands of dollars in closing costs. If you decide to sell your home, listing it with a broker, you'll still be responsible for additional closing costs the buyer doesn't usually cover. These costs include commissions to the broker or real estate agent who helped you sell the home, and possibly to a buyer's agent. If you're interested in lowering these commission costs, you may be able to make a flat fee arrangement with a broker, but it depends on the state you live in.
What Is A Flat Fee Listing?
A flat fee listing allows you to pay a fixed rate to the real estate broker that assists you in selling your home. Instead of charging a percentage to sell your home, the broker will charge a minimum or maximum flat fee to list your home in the area's multiple listing service and represent you in negotiations and at closing. Since there are several ways brokers can package their services to you, research their offerings and interview each broker or agent before determining which services you actually need.
Determining What You Need
In some states, reduced or fixed fee listings are not allowed. If your state allows it, determine what kinds of support you need to sell the house and how much of the selling you want to do yourself. Decide if you're willing to do the additional legwork to show the home or find your own buyer. Some brokers will list your home in the multiple listing service for a small flat fee ranging from $300 to $900. Other brokers may not separate the multiple listing service fee, but offer a range of packaged services including a listing, support for showing the property to buyers, contract negotiation, and closing coordination.
Reasons for Seeking a Flat Fee
A flat fee commission agreement may make sense for you if you are unwilling to pay the standard commission rate in your area or you're selling a high-value home. If you're short on equity to pay for sales commissions, a flat fee commission arrangement may be advantageous to you as well. While there are obvious advantages to reducing your commission costs, there could be some unintended consequences and downsides to using a flat fee broker arrangement.
Downsides To Flat Fee Closings
While flat fee brokers may reduce the cost of their services to you, you will still be responsible for paying an additional commission to a buyer's agent if you or your broker don't find the buyer. Some real estate agents may choose to not show your property if their perception is that they won't be compensated fairly for finding a buyer, or if they think you're a "for sale by owner" listing and they'll be dealing with the seller directly instead of another sales agent. If you decide to have your home listed with the multiple listing service and sell the home yourself, plan on spending a great deal of time finding potential buyers, showing your home, qualifying buyers, and negotiating offers.